In recent years, many companies and governments have been outsourcing the storage of e-mail, documents and other data to "the cloud" - a metaphor for ubiquitious access to the Internet.

Cloud computing is a booming sector - a recent report from Gartner, an industry analysis firm, said that it would be worth almost 110 billion euros ($150 billion) by 2014.
And now, NATO has decided to join the party.
The decades-old military alliance announced at the end of last year that it had decided to work with IBM to start testing command-and-control functions in a custom cloud environment.
'Cutting fat and building muscle'
The new cloud computing plan is part of a new spacious 440 million euro ($600 million) building equipped with the highest technological capabilities, which is currently under construction for a new headquarters, with a move-in date of 2015.
"It is all about cutting fat and building muscle - eliminating what we no longer need, and investing where our real needs lie," said Anders Fogh Rasmussen, NATO's secretary general, in a speech in Lisbon late last year. "Even though NATO is 61 years old, we will slim down, speed up and become more flexible."
NATO Secretary-General Anders Fogh Rasmussen has been a champion of cloud computing for the alliance
The NATO group tasked with assessing new operational concepts, Allied Command Transformation or ACT, is working with IBM to start testing the use of a private cloud for functions including command and control, intelligence, surveillance, and reconnaissance.
"We're investigating how command-and-control can be used and what benefits it would bring," said Johan Goossens, the head of ACT's Technology Branch in Norfolk, Virginia, in the US.
"If you look at the NATO business model, which tends to be fairly distributed, pretty global operation, where we have lots of activities in lots of places, the notion of consolidation is important in these bad economic times. So command-and-control started to appeal to us for a number of reasons."
Legal obstacles remain
Most computer experts both in and outside of the alliance cite cloud computing's ability to perform complex computing tasks cheaply to be the main draw.
This is especially attractive with 28 different member states – and their 28 different computer networks plus that of NATO's itself – which need at least some degree of interoperability on a daily basis, and in the battlefield of Afghanistan, for example, the number of interacting countries rises to more than 40.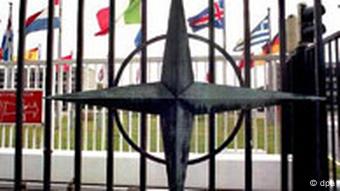 Computer experts say that it may be difficult to get all the member states to agree on things like privacy standards
While a cloud-based system may facilitate the technical consolidation of data, there are also policy issues, as many countries have laws against private data crossing borders.
"It's a very basic question – do I trust my neighbor to have my information?" Goosens asked.
However, there's another big question too: do NATO officials trust the technology?
To help governments and agencies make their own decisions about that, earlier this month, the European Union's cyber security agency, ENISA, published a new assessment of potential advantages and pitfalls.
Daniele Catteddu, the report's author, concludes that while there are some technological issues still to be worked out, cloud computing will probably be less susceptible than traditional models to threats such as inadequate encryption, equipment failure or hacking.
"The main problem is a lack of a clear legal framework, a lack of transparency in the market, a lack of understanding between parties," he told Deutsche Welle.
Still, Catteddu says NATO or any other agency considering moving to either a public, private or hybrid cloud will have challenges.
This high level of cooperation is one of the main stumbling blocks left for Goossens, the NATO official in the US.

If his team decides to recommend moving some operations to the cloud, member states still have to be convinced individually to join in and share their data, and that's not likely to happen with all 28 members, he says.
In other words, NATO's march toward the cloud may be slow, he says, but the alliance has taken its first step.
"It's the concept of the coalition of the willing," Goossens said.
Author: Teri Schultz, Brussels
Editor: Cyrus Farivar