The new civilian administration of President Htin Kyaw, who leads the country's first freely elected government after more than 50 years of direct or indirect military domination, took power at the end of March. The move to release political prisoners is part of the democratic change his government is pursuing.
"In the New Year, in order to give satisfaction to the majority of the people, we will continue to try to release political prisoners, political activists, and students facing trials related to politics," Htin Kyaw said in a nationally televised address to mark the start of the Buddhist new year.
Among those released were four journalists and an executive from the Unity Journal newspaper, who had been sentenced to 10 years of hard labor in 2014 for reporting on an alleged military chemical weapons factory, Reuters reported.
A new broom
The new National League for Democracy (NLD) government led by former detained opposition leader Aung San Suu Kyi has released or dropped charges against 282 people accused of political crimes since taking power on April 1.
Htin Kyaw pardoned 63 political prisoners on the country's traditional New Year Sunday, according to a watchdog group, in his first major political act. "According to our documents, 63 political prisoners were released from various prisons by the amnesty of the president," said the Assistance Association for Political Prisoners (AAPP).
Over 100 political prisoners and detainees, mainly students, awaiting trial were also freed just before the New Year holiday. The freed students had been held in Tharrawaddy since staging a march last year to protest against proposed changes to the education system.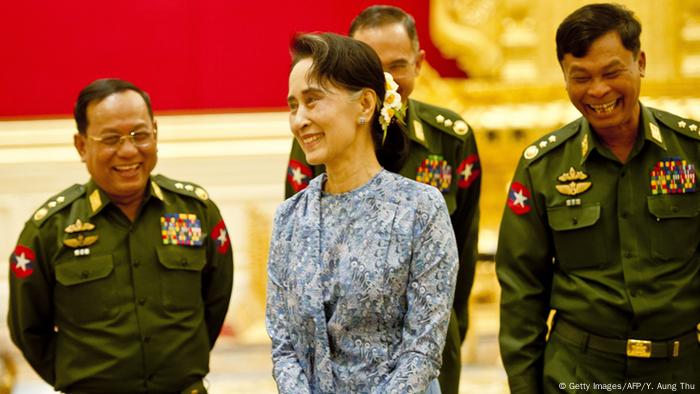 Aung San Suu Kyi (center) and a military general share a light moment
About 1,000 were released under the previous quasi-civilian government as it moved the country toward democracy. It is not clear how many political detainees remain in custody.
Aung San Suu Kyi, a Nobel Peace Prize winner and the country's most famous former political prisoner, heads the NLD, which won an overwhelming victory in November's general election. She is barred from the presidency by a clause in the military-written constitution. After the election, she was given the specially created post of "state counselor," close to that of prime minister.
The military still controls key ministries overseeing defense, internal security and local governance. Opponents of the old junta were commonly arrested and jailed for years for their political views.
jbh/jlw (AP, Reuters, AFP)