A court in Myanmar on Wednesday extended the detention of two Reuters journalists accused of violating the state secrets act.
Judge Ohn Myint extended the remand period for Wa Lone, 31, and Kyaw Soe Oo, 27, until January 10, telling the court "the interrogation is still ongoing."
The two were first arrested December 12 and ordered to be held for two weeks as prosecutors investigate allegations that they acquired "important secret papers" from two policemen.
The police officers had worked in Rakhine state where the military and the police allegedly engaged in widespread atrocities as more than 650,000 members of the Rohingya minority were forced to flee over a months' long period of violence earlier this year.
Wednesday's court appearance turned emotional as it was the first time the journalists had been able to see their family members since being arrested. Some family members wept.
"I want my husband to be free soon," said Wa Lone's wife, Pan Ei Mon. "And I trust him that he would never violate the law."
Read more: Myanmar bars UN investigator
Wa Lone told reporters, "We are just working as journalists ... We never violate journalism ethics," as he and his colleague were taken from a police van into a courtroom on the outskirts of Yangon.
US, European Union and UN officials were among those calling for the journalists to be released.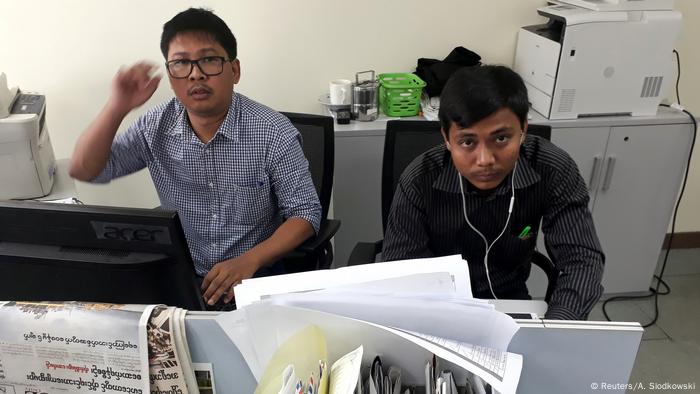 Reuters journalists Wa Lone and Kyaw Soe Oo in the newsroom shortly before their arrest
Journalists show solidarity
Dozens of Myanmar journalists were in the courtroom and wore black in a show of solidarity with their colleagues.
"We are facing the same kind of harassment under the civilian government as we did under the military government," said Thar Lun Zaung Htet, head of a local pressure group for press freedom. "It is not fair for the two journalists to be charged under the official secrets act because they were doing their job as journalists who tried to get information."
Myanmar, formerly known as Burma, labored under military rule for 50 years until 2015 when Aung San Suu Kyi, a Nobel peace laureate, was elected president. But the military still controls key levers of power, including security, raising concerns at home and abroad about the sincerity of the country's commitment to democratic aspirations.
Violating the Official Secrets Act carries a maximum penalty of 14 years in prison.
Two police officers were also arrested over the case but were not present at the court on Wednesday.
At least 11 journalists were arrested in Myanmar in 2017, including two foreign correspondents and a local reporter working for Turkish state broadcaster TRT.
The trio and their driver were sentenced to two months in prison for flying a drone close to Myanmar's parliament building in October.
Read more: Death toll at least 6,700
bik/tj (AP, AFP, Reuters)