The fact that Hunter Biden has been working for a Ukrainian gas company since April isn't being treated as a big deal by the American public.
According to the company's website, Biden took on responsibility for Burisma Holdings' legal unit to help with "transparency, corporate governance and responsibility, international expansion," and other issues,
The issue only made it onto the fourth page of the Wall Street Journal, which broke the story on Wednesday (14.05.2014). Just a few newspapers followed suit, including the Washington Post, which described the appointment as "a problem for US soft power." In other words, Biden's new position could damage US credibility in the Ukraine crisis.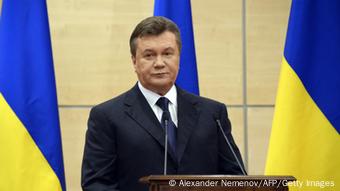 An associate of former Ukraine President Yanukovych controls Burisma
'What were they thinking?'
US foreign policy is often perceived abroad as a selfish exercise to further economic interests, largely driven by a huge energy demand, and Biden's commitment to Burisma - Ukraine's largest private gas supplier - seems to confirm the suspicion.
The Washington Post article described Biden's behavior as "nefarious." Observers' tweets cited in the piece argued the situation "looks really bad. What are they thinking?" while others were simply "speechless." According to the Wall Street Journal, meanwhile, Burisma is controlled by a confidant of former Ukrainian President Viktor Yanukovych.
Nothing fishy, says White House
Meanwhile, the White House says it can't see any problem in Biden's recent appointment. Press Secretary Jay Carney refused to comment further, stating only that "Hunter Biden and other members of the Biden family are obviously private citizens, and where they work does not reflect an endorsement by the administration or by the vice president or president."
Michael Sawkiw, of the Ukrainian Congress Committee of America, backed the president's spokesman.
The UCCA claims to represent the interests of around 1.5 million Ukrainians in the US, and Sawkiw believes there are only benefits to be gained from Biden's work with the Ukrainian energy industry - with the result, he says, of strengthening political and economic ties between the two countries.
Sawkiw is also hoping Biden will help tackle Ukraine's biggest evil: "Ukraine is riddled with corruption," he told DW. "It has been for the past 23 years of its independence from the Soviet Union."
Carney said Hunter Biden's job had nothing to do with US policy
It doesn't matter "whether it's the son of the vice president of the United States or whether it is an existing Ukrainian political official, this is the opportunity to try to fix the problem that already exists in Ukraine," he added.
Sawkiw welcomes greater cooperation between the Biden family and Ukraine, albeit on a different level, because Biden was "an important supporter of assisting Ukraine" in the Obama administration.
Keep business and politics separate
Director of the US-Ukraine Business Council Morgan Williams, on the other hand, points to an American tradition that frowns on close family members of government working for organizations with business links to active politics.
Biden appears to have violated this unwritten principle. "It looks like there could be a conflict here," said Williams, though he admits there is no evidence of this yet. "But when you're trying to keep the political sector separate from the business sector, and reduce corruption, then it's not just about holding down corruption, it's also the appearance."