The carnival floats in parades through the region's cities traditionally take an irreverent look at world events, but the Central Council of Muslims in Germany condemned one float in Düsseldorf which featured fiberglass models of two bearded men wearing turbans and explosives belts and brandishing guns.
The word "Cliche" was printed on one of the men, while the other bore the word "Reality."
The depiction of Islam was "barefaced lies" and the float was "using negative images to seek attention," the Central Council's secretary general Aiman Mazyek told Tuesday's edition of the Westdeutsche Zeitung daily.
Mazyek said he asked himself what the float was meant to signal. "This is how I read the message: 'We love our prejudices and we strengthen them with blatant lies if necessary,'" Mazyek told the paper. "It has nothing to do with humor," he added.
Carnival back to satirical themes
Organizers of the festivities in the carnival centers of Cologne, Düsseldorf and Mainz had promised a return to satirical themes this year after a relatively restrained showing in 2006 in the wake of the controversy over the publication by a Danish newspaper of cartoons depicting the Prophet Mohammed.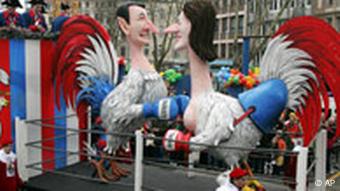 French presidential candidates Sarkozy and Royal depicted as boxing cockerels
Cologne played host to the main parade, with 99 floats edging through the city, cheered on by hundreds of thousands of revellers in costume and wearing wigs.
One float in Cologne showed US President George W. Bush being spanked by the Statue of Liberty while another depicted French presidential candidates Segolene Royal and Nicolas Sarkozy as boxing cockerels.
Carnival is a tradition stemming from Catholic regions in the west and south of Germany, but it is rapidly being adopted by cities in the north and east.
The processions take place on what is known as Rose Monday, although opinions differ on the origin of the term.
Some say it is derived from the word "rhosen" from the Rhineland dialect, meaning dashing or romping. Others link it to Rose Sunday, so-called since the Middle Ages because the pope traditionally presented a golden rose to a worthy citizen on that day.