Former Pakistani military dictator Pervez Musharraf has been put under arrest in his house in one of Islamabad's posh suburbs after a court canceled his bail on Thursday, April 18. The arrest order relates to Musharraf's decision to fire judges of senior courts in 2007.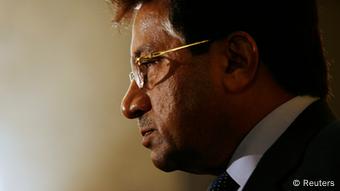 The former premier spent five years in exile before choosing to return to Pakistan
On Friday, the Islamabad High Court ordered the police to keep the former military chief and president in custody for two days and present him before an anti-terrorism court on Monday.

In a video message posted on social networking website Facebook, Musharraf said his arrest orders were "politically motivated" and claimed that he was being punished for his services to Pakistan and its people.

The general ousted the popular former premier Nawaz Sharif in a bloodless military coup in 1999. He then ruled the Islamic Republic for eight years.
He was also considered to be one of the most important US allies in the war against the Taliban and al Qaeda in Afghanistan and received ire of religious groups as a result.
A popular leader with many Pakistani liberals, the general now faces death threats from the Taliban and other Islamists, with whom he dealt with an iron hand during his eight years of dictatorial rule. He also has a bounty on his head, which was placed by the son of slain Baloch nationalist leader Akbar Bugti.
Musharraf was impeached when the elected government led by Yousuf Raza Gilani came to power in 2008. He went into self-imposed exile for five years.

He returned to Pakistan from Dubai on March 24 this year with the purpose of contesting parliamentary elections, due on May 11.
However, to his dismay, the Election Commission of Pakistan rejected his electoral nomination papers on April 16, and disqualified him from taking part in elections, as a number of cases are pending against him in the courts, including one in which he is implicated for the murder of former premier Benazir Bhutto.

'Embarrassed' military

Musharraf's arrest orders has come to many who thought that the powerful Pakistani army would not allow its former head to be arrested as a surprise.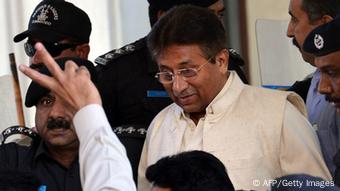 Musharraf left the court unperturbed
The general had managed to get his bail approved after landing in Karachi. He got it extended earlier this month and was hoping to get another extension. But the Islamabad High Court dismissed his appeal and ordered his arrest, after which the retired general had fled the court premises.

According to Pakistani media reports, the general left the scene unperturbed under the protection of his commandos and security personnel which have been provided to him by the Pakistani military and the government.

"Those who were supposed to arrest Musharraf were guarding him," Pakistani writer and activist Masood Qamar told DW.

Karachi-based defense and political analyst Ali K. Chishti told DW the Pakistani generals were "unhappy" with Musharraf's arrest.

"The military is not happy and watching the developments very cautiously. I spoke to some serving generals and they said they found the situation extremely embarrassing for their institution. The Pakistani army does not want to see their former chief behind the bars," Chishti said.

"Musharraf still represents the army. The military commanders won't let this happen," Talat Bhat, a Sweden-based Kashmiri political activist had told DW prior to Musharraf's arrest. "It is but a test and a defining moment for Pakistan, its army and the judicial system. We will see if a general can also be arrested."
Critics say that Musharraf, even after his arrest, is getting a "privileged" treatment because of his military background. Had he been a civilian politician, he would have been sent to a jail, they say.

Others disagree. "He is receiving special treatment because he faces death threats. I don't think it is because of fact that he was the head of the military," Chishti commented.

Clash of institutions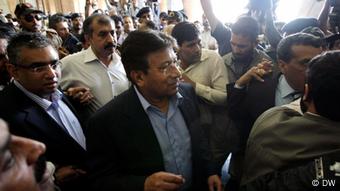 Musharraf had hoped to revive his political career
Miqteda Mansoor, a columnist in Karachi, said that the power dynamics in Pakistan are changing.

"The judiciary has emerged as a powerful institution during the past five years," Mansoor told DW. He, however, said he thought that Musharraf's arrest orders had been issued out of "revenge" by the judiciary. "There should have been a proper trial first," he said.

Chishti disagreed: "Musharraf's arrest shows that Pakistan has a vibrant judiciary which wants to ensure the rule of law," he said.

Experts say that under the present circumstances, the May 11 parliamentary elections could well be postponed, but even if these do take place on time, political stability will not return to Pakistan any time soon.