Max Hollein is a curator - but not just any curator - he's responsible for one of Germany's most famous museums, the Städel in Frankfurt. In recent years, he has expanded the museum and introduced new dazzling exhibitions.
Currently the museum is showing the work of artist Emil Nolde. Previous exhibitions featuring artists like Albrecht Dürer and works from the romantic period attracted hundreds of thousands of visitors.
Hollein's efforts have been noticed abroad as well. Just recently he was the leading candidate for the top position at the Centre Pompidou in Paris.
Financing art with private sources
Max Hollein, who was born in Vienna in 1969 as the son of famous architect Hans Hollein, is known for connecting money and art like no one else in the German museum landscape. The different buildings of the Städel Museum were largely financed by private donors. Time and again Hollein has come up with new partners to bring art to the market.
Together with German drugstore chain "dm," Hollein and his Städel Museum now want to offer 100 art pieces as prints for people's living rooms. Hollein, who is well connected in the city of Frankfurt am Main, knows where to get funding for his museum temple and manages to walk the line between art and commerce.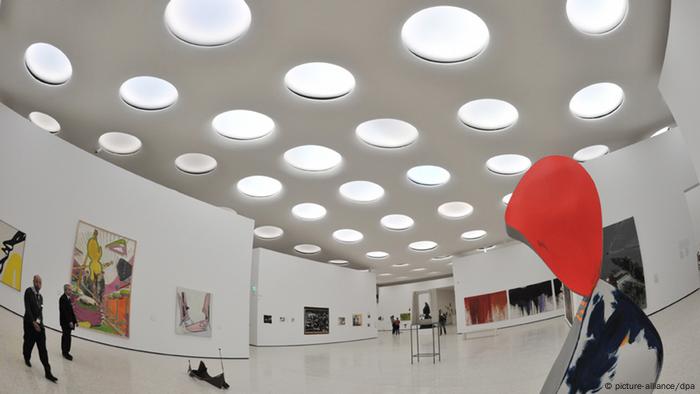 Hollein also arranged for the extension of the Städel Museum below ground, where visitors can now see modern art
DW: Press reports about you tend to claim that your path to the art world had a little detour through the world of finance. But at the very beginning of your career you were already dealing with museums. How have these two worlds influenced you?
Max Hollein: I grew up in a very artistic household, in a family that was deeply entrenched in the art scene and actually still is. I started dealing with art early on, at the beginning maybe not completely voluntarily, but I was confronted with art and artists who were friends of the family. That's how I grew up. It was a completely natural environment. But at the same time I developed certain interests outside of the art world, namely for economy and the world of finance. That's how I ended up studying both art history and business administration. In this respect, two souls are dwelling in my chest [as Goethe once said], but I was able to combine them, and I still am.
It's also your job to combine them, especially in Frankfurt. Judging from the huge media response you seem to manage doing that pretty well. What positive outcome does the connection of these two fields have, what can you build on?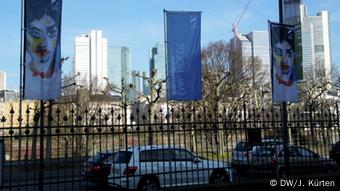 Frankfurt combines art and money in one city
In my opinion it's about communicating the objectives, needs and topics of the institution. First and foremost, we transport the content we stand for: the art and exhibitions. But we also have to bring up our financial needs and call attention to the necessities for realizing our goals that will then benefit the public in order to find sponsors and supporters for our ideas and projects. That needs to be done with the same kind of eloquence and sensibility that we used for communicating the art of Emil Nolde and Tobias Rehberger to an audience.
I think the job of a museum director is, on the one hand, to define the programmatic identity of the institution, while on the other hand also to make sure that the museum has the potential to develop and evolve - when it comes to the program and the collection as well as the financial circumstances and the culture of support that is directly linked to that. From the beginning on I saw that as one of the main tasks, and I hope I accomplished that to a certain degree.
If you look outside the window you see Frankfurt's skyline with its bank towers. Frankfurt seems like a special city. Do you think your model and your efforts would also work in other German cities?
I think every institution has to work within its given environment. The Städel Museum is Germany's oldest cultural community foundation and so the idea of the dedication of the individual is anchored in the very root of the institution. With the [exhibition institution] Schirn Kunsthalle Frankfurt we bet strongly on sponsorship and we were thus able to greatly expand the institution's possibilities and its scope. That was definitely possible in Frankfurt and still is. There are many people, institutions and companies here that get involved with museums.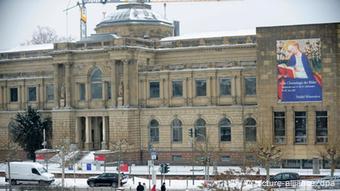 Old building, new ideas: the Städel Museum in Frankfurt
We would definitely act differently in another city. However, as a cultural institution we're generally faced with a situation in which the public authority has not been the single source of financing for a long time - and it also doesn't want to be. That's something you simply have to realize and you have to find creative solutions that can be different depending on the city and the cultural sphere. But what's the same everywhere is the direction of the action and the necessity to act.
What does a curator do to get a young audience interested in museums, especially given today's digital possibilities?
The most important realization certainly is that our audience is not a single unit. On the contrary, it's a very heterogenic group with a different knowledge and expectations when it comes to visiting a museum. If you want to try to appeal to certain parts of the audience more, then you have to develop specific communication initiatives for them, meaning you have to differentiate, or as you would say in economic terms, diversify.
The interview was conducted by Jochen Kürten
The Städel Museum is currently showing an exhibition featuring Emil Nolde's work (until 16.6.). The Schirn Kunsthalle Frankfurt is featuring the exhibit "Esprit Montmartre" (until 1.6.). The Liebieghaus is home to one of Germany's largest and most important sculpture collections.