Munich has managed to secure more funding for its bid to host the 2018 Winter Olympics, but still not the amount bid committee chief executive Willy Bogner had hoped for.
The bid committee was able to secure three million euros of additional cash, raising the budget to 33 million euros, short of an expected 37 million euros.
"We thought we'd get a bit more," Bogner said after a crisis meeting on Thursday, where he also dismissed speculation that he was about to throw in the towel.
"We now have to see where we can save four million euros," he said, adding that he still hoped to present "a decent application."
The state premier of Bavaria, of which Munich is the capital, promptly rebuffed Bogner's negative stance in a news conference after the meeting, demanding a "first-class bid" instead.
Squabbling and protest movements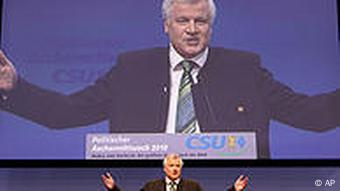 Seehofer wants a "first-class bid" for Munich
Premier Horst Seehofer is keen to end squabbling between Bogner, the state of Bavaria, Munich and the ski resort Garmisch-Partenkirchen, which is crucial to the bid because of its snowy Alps.
"We can't let such issues rumble on, they have to be sorted out. We need to clarify the financial situation and Mr. Bogner's investment plan as well as the situation in Garmisch," he said.
Locals in Garmisch-Partenkirchen and Munich are concerned about the damage the Olympics could do to the environment as well as the attitude of Bogner and his team.
"Mr. Bogner and his bid committee are unbelievably patronizing to residents. They're arrogant, condescending and absolutely unprofessional. At some point the situation will just erupt," said Alex Doering, who is involved in the anti-Olympic initiative Nolympia 2018.
A referendum held two weeks ago in Oberammergau, about 10 kilometers north of Garmisch-Partenkirchen, already toppled plans for the town to host the biathlon and cross-country races.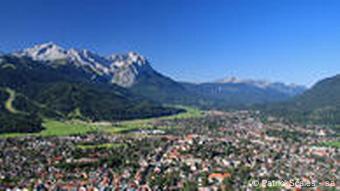 Ski resort Garmisch-Partenkirchen is crucial to Munich's bid
Soccer support
On the bright side, German Bundesliga football champions Bayern Munich have thrown their support behind Munich's bid. The team's Chief Executive Karl-Heinz Rummenigge has criticized opponents to the bid, saying he is irritated by the "obstructionists," as he calls them.
Since the beginning of the week, a petition against the bid has been circulating in Garmisch-Partenkirchen, but the organizers of the bid are confident that farmers in the area will permit the use of their land.
"The most important thing is that we speak their language, so they don't have the feeling they are signing something under pressure," Joachim Faerber, spokesman for Munich 2018, said after Thursday's meeting.
"[Seehofer] and the lord mayor of Munich were all confident after today's meeting that the clouds are gone and the sun's coming through," he added.
Author: David Levitz/ng
Editor: Martin Kuebler