Reports indicate that the attack was carried out in two stages, with twin bombs being launched within a short amount of time from each other. Afghan Interior Ministry spokesman Sediq Sediqqi said that 43 people had been wounded in the attack, confirming that a suicide bomber struck first, followed moments later by a car bomb.
The attack took place near the offices of the Afghan parliament in Kabul following a prolonged period of relative calm in the capital city. The explosion occurred at the height of evening rush-hour, as employees were exiting the parliament complex.
"The first explosion happened outside the parliament (...) a number of innocent workers were killed and wounded. It was caused by a suicide bomber on foot," an injured parliament security guard by the name Zabi told AFP.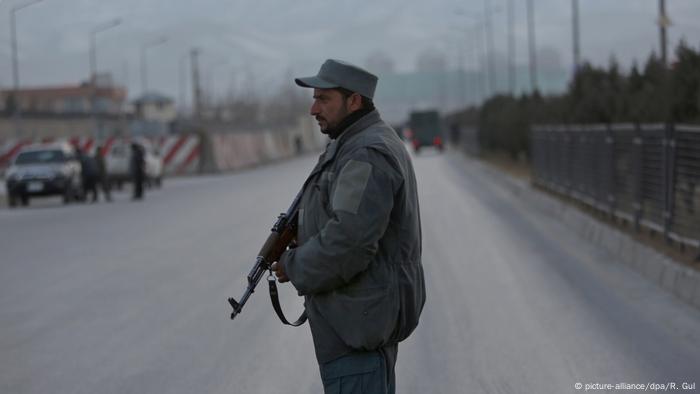 Afghanistan was hit by a series of explosions on Tuesday
"The second one was a car bomb. It was parked on the other side of the road and flung me back when it detonated," he added.
The Afghan Taliban claimed responsibility for the attack; the group aims to overthrow the country's Western backed government. Taliban spokesman Zabihullah Mujahid said, however, the explosions had targeted a vehicle belonging to Afghanistan's main intelligence agency.
Explosion in Kandahar
Hours after the bombings in Kabul, a separate explosion in the southern city of Kandahar killed several people and wounded others. The explosion took place in the home of Kandahar's governor, Humayun Azizi. Both Azizi and United Arab Emirates (UAE) ambassador to Afghanistan Juma Mohammad Abdullah Al Kaabi were among the injured, according to Kandahar provincial council head Haji Sayed Jan Khakrezwal.
No group has claimed responsibility for the explosion in Kandahar, but signs point to it being an attack. Azizi spokesman Sameem Khpalwak, who was among the wounded in the explosion, said the blast occurred during a meeting between senior officials and diplomats from the UAE embassy.
US forces back in Afghanistan
The attack follows an announcement earlier in January saying that the US would deploy 300 US Marines to Afghanistan's southwestern Helmand province to assist the NATO-led mission in charge of training Afghan forces. The region is among the most volatile regions in the country, with the poppy-growing drug trade financing the Taliban insurgency. The US mission had ended in 2014. One of the biggest concerns for the Taliban is to repel foreign forces from the country.
Thousands of civilians have been killed in Afghanistan in the 15 years since the Taliban government was brought down in the US-led military campaign of 2001.
ss,kbd/rt (AFP, Reuters)