A male rapper flows to a DJ's beat in the gilded setting of a Berlin opera house while a female singer launches into a Mozart aria underlaid by the 18th-century tinkle of a harpsichord.
Welcome to "Cosi fan tutte", hip-hop style, as staged at Berlin's renowned Komische Oper during Europe's year-long celebrations of the 250th anniversary of the composer's birth.
This performance of the beloved 1790 opera, accompanied by a high school orchestra, demonstrates Mozart's enduring power to attract audiences, and inspire new generations anxious to take his work to new places.
The 21-year-old Sil-Yan Bori, aka DJ Craft, works the turntables while the familiar opening notes swell from the orchestra pit as 40 street dancers mount the stage.
They had eight months to create their own choreography on the central and eternal themes of "Cosi fan tutte": love, trust and infidelity.
One of the dancers, 16-year-old Judith Scholl, said that before participating in the performance she "fell asleep every time" she went to the opera.
The two young military officers, Guglielmo (alias FlowinImmo) and Ferrando (alias Bobmalo), sport baggy jogging pants and rap the 200-year-old libretto in German.
Convinced that their girlfriends are true to them, they agree to a bet with their bachelor friend Don Alfonso who has his doubts about the loyalty of the female sex.
Pretending to have to leave them to head off to war, the pair reappear disguised as dashing foreigners ready to sweep the women off their feet. But Fiordiligi and Dorabella, played by young singers, cannot be swayed.
Classical themes still relevant in modern times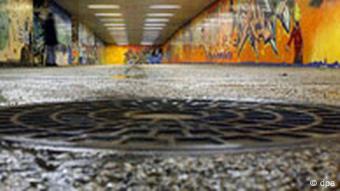 Mozart probably didn't envisage a backdrop like this for his aria
The set, looking like any Berlin street, is sprayed with graffiti, the Brandenburg Gate is transformed into a giant ghetto blaster and the landmark Television Tower is mangled and dented.
"Cosi, this story about fidelity, happens everyday at school," says another one of the dancers, Deniz Deli, a German of Turkish origin.
The performance gains resonance against the backdrop of increasing violence at Berlin schools between Arab, Turkish and German teenagers which has dominated the headlines in recent weeks.
Mozart and hip-hop "made for each other"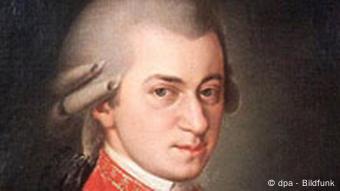 MC Wolfie M aka Wolfgang Amadeus Mozart
Organizer Markus Kosuch said he initiated the show "for the love of Mozart" and believes hip hop and opera were made for each other. "Respect is one of the most important aspects of hip hop. I take a step toward you, you take a step toward me," he said.
The two rappers said they did not have to make many changes to the libretto, particularly when it comes to the sweet-talking seduction of Fiordiligi and Dorabella.
"Girls should not always play so hard to get but should just throw themselves into life and see what happens," said one of the dancers, Kira-Signi Hass, giving her take on the opera's message. "And the guys should not act like they can get all the girls in bed."
The team has its own ideas about infidelity and the sexes that mark a break with those of Mozart, a legendary womanizer.
The moral of this hip-hop opera according to the cast is not "Cosi fan tutte", which translates in Italian as all women are like that, but "Cosi fan tutti": everyone is like that.