"I felt like I was in withdrawal", says Monika Grütters, currently the most important political decision-maker in matters of arts and culture in Germany. At the end of her second term in office, the Federal Commissioner for Culture and the Media discusses the coronavirus lockdown and looted colonial art, in an interview with Deutsche Welle.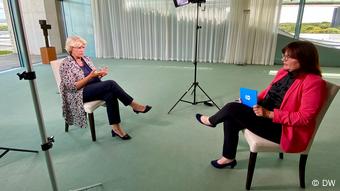 The coronavirus crisis has been her biggest challenge yet. It brought the creative sector to a standstill: no concerts, no theatre, no exhibitions. Cinemas closed; jazz clubs shut down. As culture went online and films were streamed, venues faced bankruptcy, artists made career changes. Germany's first woman to be in charge of culture, Monika Grütters, felt like she was experiencing withdrawal, she says in an interview with Deutsche Welle´s Arts.21. "In the end, it had to be applied: if we close the schools, we can't justify why a theatre should be allowed to be open," she says, referring to the lockdown that affected all areas of society.
Monika Grütters (59) has been the Federal Commissioner for Culture and the Media since 2013. During her term in office, the budget increased by two-thirds to more than two billion euros. Despite resistance from the art world, she pushed through the new Cultural Property Protection Act, with which she sought to prevent the illegal circulation of antiques and take responsibility for the cultural heritage of other countries.
The topic of "colonial looted art" is also high on her agenda. Days before the opening of the Humboldt Forum, on 20th July, Grütters says the colonial era has long been a blind spot in our culture of remembrance. Europe's rule over Africa is only now coming into view. A number of artworks looted during the colonial era are now to be exhibited in the Humboldt Forum, the new museum in the reconstructed Berlin City Palace.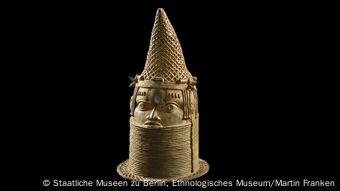 These include the so-called Benin bronzes from present-day Nigeria. The return of the sculptures and metal plates is currently being negotiated with a Nigerian delegation, and is set to go through next year. Germany wants to present itself to the world as a partner.
Grütters´second term in office will come to an end after the Bundestag elections at the end of September. Voters will decide whether or not there will be a third. For the culture commissioner, it is still the best job in the world.
Broadcasting Hours:
DW English
SAT 17.07.2021 – 05:02 UTC
SAT 17.07.2021 – 11:30 UTC
SAT 17.07.2021 – 20:30 UTC
SUN 18.07.2021 – 07:30 UTC
SUN 18.07.2021 – 13:30 UTC
SUN 18.07.2021 – 22:30 UTC
MON 19.07.2021 – 06:30 UTC
Cape Town UTC +2 | Delhi UTC +5,5 | Hong Kong UTC +8
Lagos UTC +1 | Cape Town UTC +2 | Nairobi UTC +3
San Francisco UTC -7 | Edmonton UTC -6 | New York UTC -4
London UTC +1 | Berlin UTC +2 | Moscow UTC +3

DW Deutsch+
SUN 18.07.2021 – 07:30 UTC
MON 19.07.2021 – 06:30 UTC
Vancouver UTC -7 | New York UTC -4 | Sao Paulo UTC -3