Mongolians on Monday cast their votes in a divisive presidential election that pits traditional politicians against a feng shui master in the resource-rich nation.
Mieygombo Enkhbold of the ruling Mongolian People's Party (MPP) is seen as the favorite to win the election. He's up against Khaltmaa Battulga from the outgoing president's Democratic Party, which is currently in opposition in parliament.
The election has been viewed as a bellwether for popular support for Enkhbold's MPP, which swept up 65 seats in the 76-seat unicameral parliament in last year's parliamentary elections.
Meanwhile, Sainkhuu Ganbaatar of the Mongolian People's Revolutionary Party has claimed to represent a third option in the race. Ganbaatar, who ran a feng shui practice for years, is expected to take enough votes from the main two candidates that Mongolia might require its first ever run-off round.
"Ganbaatar is the only one who speaks the voice of the regular people of Mongolia," said Zundui Gombojav, a 60-year-old unemployed disabled man. For 27 years, we have chosen the two largest parties, but they have done nothing."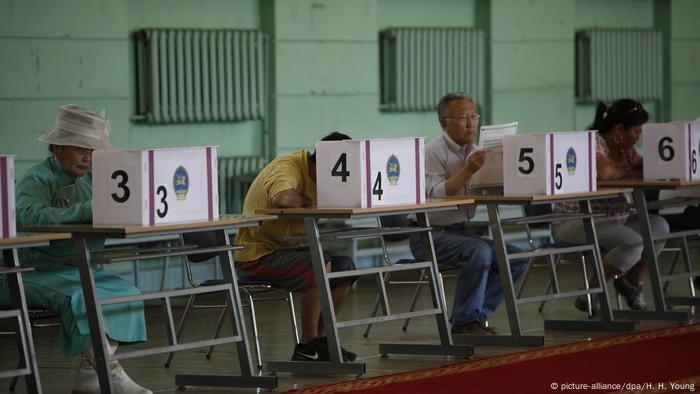 From corruption to bailout
The electoral process has been marked by a notably divisive campaign involving corruption scandals and debate on the country's sluggish economy following a $5.5 billion bailout led by the International Monetary Fund (IMF).
Despite once being one of Asia's fastest growing economies, the landlocked country has witnessed a foreign investment nosedive. In May, the Mongolian government managed to negotiate the bailout after implementing a series of unpopular austerity measures.
Read more: Mongolia's Tugrik: The world's worst-performing currency
"The electorate is not happy with IMF taxes and cuts," said Dale Choi, who heads the Altan Bumba Financial Group based in the capital Ulaanbaatar. "But the MPP campaigned hard to explain why Mongolia is where it is now."
Alongside debate of the bailout, a $25-million scheme to sell government posts reportedly involving Enkhbold and other MPP officials have put the ruling party on their heels in the run-up to the vote.
"[The election] is truly testing the nerves of voters," Mongolian public opinion analyst Gerel Orgil told AFP news agency. "It's like watching a bullfight."
ls/msh (Reuters, AFP)