A bunch of egalitarian criminals who go by such names as "Spider Mum" and "Santa Guevara" are being referred to as modern-day Germany's version of Robin Hood and his Merry Men. And just like the Sheriff of Nottingham in the legend of Sherwood Forest's most famous outlaw, the Hamburg police are at a loss when it comes to stopping them.
The group, which calls itself "Hamburg Umsonst" -- loosely translated as Hamburg Without Charge, has apparently graduated from handing out flyers with tips on how to forge cinema tickets and travel illegally on public transport to raiding the swankiest stores and delicatessens before distributing their swag to the city's poor.
Their most high profile job to date came last week. Dressed in an array of comic book hero costumes, the gang raided a well-to-do eatery in the north German port city last Friday during work hours and absconded with a large amount of fine food -- after posing for a publicity photograph with bemused staff. Hamburg cops called to the crime scene drew a blank despite deploying 14 patrol cars and a police helicopter.
According to eye witnesses, the "Hamburg Umsonst" raiding party consisted of around 30 people who apparently knew what they were doing when it came to fancy eats and drinks. The everyday shoplifter will probably not take the time to savor the array of produce on hand before sticking a box of Valrhona chocolates down their pants. It soon became obvious -- these guys were pros.
Cops can't catch connoisseur crooks in costumes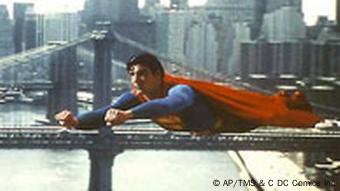 The gang's get-away plan left the cops trailing behind
The Hamburg cops have little to go on except that the gang has a social conscience, know the difference between corned beef and Kobe veal and have a seemingly unlimited supply of fancy dress costumes.
But even the best laid plans of criminal masterminds have the odd weak spot. While carrying out their raids in order to support the one-euro jobbers, exploited employees and those on benefits, the gang have been unable to resist the sating of the ego.
In what could eventually be their undoing, the caped food raiders have shown a penchant for leaving notes at the scene of their crimes which carry statements such as: "Without the abilities of a superhero, survival is impossible in the town of the millionaires."
Until the police get a break, upmarket shopkeepers in Hamburg are advised to keep their doors closed to anyone wearing spandex tights and a Mexican wrestling mask.