The list of professional cyclists to have died of heart attacks in recent years is surprisingly long:
• In 2004, Belgian Stive Vermaut died at the age of 28 following a heart attack he suffered during a training session. In the 2000 season, he rode alongside Lance Armstrong with the US Postal team.
• Also in 2004, Belgian cross specialist Tim Pauwels died after the 23-year-old suffered cardiac arrest during a minor race in Erpe-Mere, Belgium.
• In 2005, Alessio Galletti fell off his bike in the Spanish race Subida al Naranco and did not get up. The 37-year-old Italian, who rode for the Naturino-Sapore di Mare team, had also succumbed to cardiac arrest.
• In 2009, 21-year-old Frederiek Nolf of the Topsport Vlaanderen-Mercator team died in his sleep one night during the Qatar Tour. According to media reports from the time, all of the evidence pointed to the Belgian having suffered a heart attack, however his parents declined an autopsy.
• In 2010, Luxembourg's Kim Kirchen, then 39, suffered cardiac arrest, was placed into an artificial coma, however, he survived the incident. The former T-mobile Team rider subsequently ended his racing career.
• In 2012, Rob Goris died of a heart attack in a hotel at the age of 30. Like Goolaerts, the Belgian competed for the Veranda-sponsored team.
• In 2016, 21-year-old Dutch rider Gijs Verdick of Cyclingteam Jo Piels suffered two heart attacks during an under-23 tour in Poland and was placed into an artificial coma. Verdick was brought from Poland to Zwolle in the Netherlands, where he passed away a day after his arrival.
• Also in 2016, the Belgian Daan Myngheer (Team Roubaix Lille Métropole) suffered a heart attack and died during the first stage of the Criterium International, a two-day race in France. He had complained of discomfort during the race and collapsed after seeking medical attention. Myngheer was just 22 years old.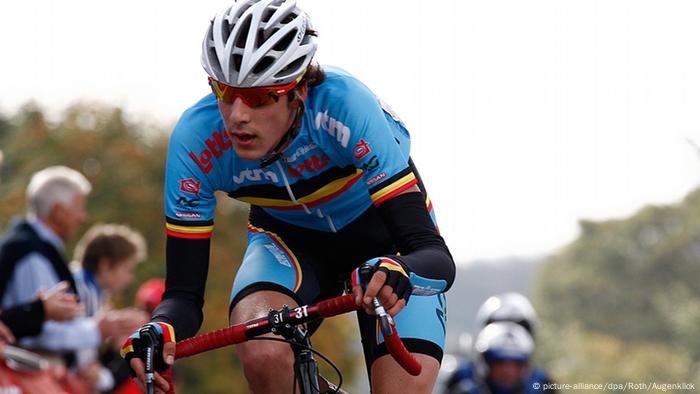 The late Belgian rider Daan Myngheer
• Just over a year ago, Egyptian cyclist Eslam Nasser Zaki died during the African Continental Track Cycling Championships in South Africa. The 22-year-old fell off his bike on the track in Durban. It was later determined that he too had suffered a heart attack.
This series of heart attacks in professional cycling raises an important question: How can so many highly trained athletes die of heart attacks despite being young, healthy and under regular medical supervision?
Doping, or heart damage caused by endurance sports?
The first possibility that comes to mind regarding such deaths in professional cycling is doping. In the past, there has been plenty of speculation about the effects of blood doping on the heart. During the heyday of Epo doping around the turn of the millennium, cyclists spent their nights walking through hotel corridors to get their blood — thickened by the abundance of red blood cells — moving for fear of thrombosis or heart attack. Both riders and team members have confirmed this in statements. According to a study by the French magazine Nouvel Observateur, the mortality rate among Tour de France competitors is almost three times higher than that of the general population. However, to automatically conclude that heart attacks in cyclists are linked to doping would not be accurate.
This is because there are other possible and just as likely causes: Extreme endurance sports like professional cycling can change or damage the heart. In 2012, Dr. James O'Keefe published a study in the American medical journal Mayo Clinic Proceedings that showed that endurance sports often lead to a permanent overstretching of the heart muscle, and this puts an excessive strain on the heart. With just 40 marathon runners, triathletes and cyclists, involved in the study, the sample size was quite limited. However, scarring was detected in the right chamber of the hearts of five athletes.
Michael Goolaerts (center) was just the latest professional rider to die of cardiac arrest
A 2017 study by the Mayo Clinic in Minnesota came to the conclusion that white men who compete in an extreme amount of sports over a period of years have a tendency to develop premature calcification of the coronary arteries. The extremely athletic subjects studied were even more likely to develop coronary artery calcification than those who had engaged in no physical activity over the years. This was particularly noticeable in the white male subjects who engaged in particularly demanding sports. They had an 85 percent higher chance of developing coronary artery calcification than the general population.
Another 2017 study published in the JAMA Cardiology medical journal found that coronary artery calcification is one cause of heart attacks, particularly at a relatively young age.
Structural changes to the heart
"It has been demonstrated that structural changes to the heart occur as a result of high-performance sports," Professor Hans-Georg Predel confirmed to DW. The head of the Institute for Cardiovascular Research and Sports Medicine at the German Sport University Cologne emphasized that according to current data, this applies more to older than younger athletes. However, he also said that every case needed to be looked at individually.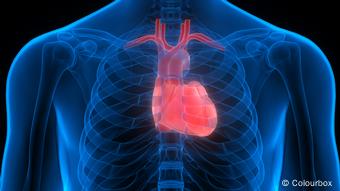 High-performance sport can change the heart's structure
"One cannot automatically draw a link to doping in these cases," Predel said. "There are known links between doping and heart disease in competitive athletes, but there are other possibilities, such as congenital heart defects, acute infections or even coronary arteries that are too narrow."
Still, Dr. Predel believes that more could be done to combat the problem of cardiac deaths in high-performance sports.
"Actually, the annual team checkups, as they are conducted in Germany, should rule out such cases, with ultrasounds of the heart, cardiac stress tests and laboratory diagnostics," Predel said. However, such check-ups are not carried out in every country and not in every sport.
As for Michael Goolaerts, who passed away at the age of 23 on Sunday after suffering cardiac arrest during Sunday's Paris-Roubaix one day race, French judicial officials have launched an investigation into the matter and an autopsy is to be conducted in the next few days to determine the precise cause of death.