Inarritu (c. in above photo) won the award from the Directors Guild of America (DGA) for his frontier survival drama on Saturday, just three weeks ahead of this year's Academy Awards, more commonly known as the Oscars.
The Mexican filmmaker also won the DGA directing award last year, for "Birdman," and it turned out to be a prelude to an Oscar. Other winners of the DGA award have also often gone on to take the Oscar, and Inarritu is undoubtedly hoping history will repeat itself this year.
In accepting the award, he thanked the Guild for what he saw as a gesture of acceptance and affection.
"This hug, this embrace you are giving me today goes to a small country, to a whole Latin American community in this country," he said. "Your embrace makes me feel proud."
Others nominated for the best director award were Tom McCarthy ("Spotlight"), Adam McKay ("The Big Short"), George Miller ("Mad Max: Fury Road") and Ridley Scott ("The Martian").
All but Scott are up for Academy Awards for directing. "Room" director Lenny Abrahamson replaced Scott in the Oscar race.
Different guilds, different winners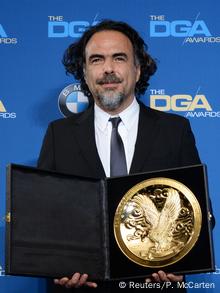 It was Inarritu's second consecutive win
So far this year, industry awards have gone to three different candidates, with the Screen Actors Guild choosing "Spotlight," the Producers Guild selecting "The Big Short" and now the DGA award.
"Spotlight" is a journalism drama about the "Boston Globe's" investigative reporting of Catholic church sex abuse, while "The Big Short" deals with investment chicanery on Wall Street.
The Academy Awards will be handed out on February 28 in a televised extravaganza that will be broadcast around the world.
Calls for Oscar boycott
But this year's awards drama has been overshadowed by the absence of black actors in any of the prominent categories, prompting calls for a boycott.
The Academy moved swiftly to try and tamp down the firestorm in January by announcing a series of changes to membership rules, which are intended to bring greater diversity to the nominating process. But accusations of racial bias continue to cast a pall over the ongoing awards season.
The DGA wasn't exactly a picture of diversity either, with nine of 11 directing awards going to white men.
In addition to film directors, the DGA also handed out television honors. Chris Addison won the award for best TV comedy direction for "Veep," while David Nutter won the award for a TV drama series for "Game of Thrones."
Other winners Saturday included Kenny Ortega for Disney's "Descendants," Don Roy King for the "Saturday Night Live 40th Anniversary Special," and Matthew Heineman for his documentary "Cartel Land."
bik/tj (Reuters, AP, dpa)