Always suspicious of deals to its detriment between Moscow and Berlin, Poland was outraged by the agreement between Russian President Vladimir Putin and former German Chancellor Gerhard Schröder in September to build the pipeline across the Baltic Sea.
Warsaw has called on the European Commission to consider alternatives to the route, which bypasses Poland and other formerly communist countries that are now part of the European Union.
"I believe that relations are very good and I have the strong impression that the Polish president-elect is also interested in very good relations with Germany and in the forward-looking positions that we can adopt together," Merkel said after talks with Lech Kaczynski.
But the chancellor, accompanied on the visit by German Foreign Minister Frank-Walter Steinmeier, acknowledged problems would have to be discussed, "notably, of course, the Baltic Sea pipeline.
"We would like this project to be accessible to everyone and we will set up a joint working group to deal with it," she said. "I made it very clear, of course, that we want to have good strategic relations with Russia -- not over the head of Poland, but in consultation with Poland. We wish to avoid friction, but to have good relations with both Russia and Poland."
Merkel also met conservative Prime Minister Kazimierz Marcinkiewicz and the president of the ruling Law and Justice party, Jaroslaw Kaczynski, the twin brother of the president-elect, as well as Donald Tusk, the leader of the liberal Civic Platform.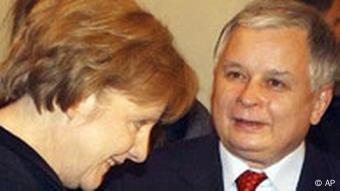 Merkel talks to Poland's President-elect Lech Kaczynski in Warsaw
Sixty years after the end of World War II, tensions between Poland and Germany still linger close to the surface, a fact exploited by the Law and Justice party during parliamentary and presidential elections in September and October.
Expellee monument
Poles are deeply suspicious of a lobby group, close to Merkel's Christian Democratic party, which represents ethnic Germans who fled or were expelled from eastern European countries including Poland at the end of the war.
The chancellor has backed efforts by the Federation of Expellees to build a monument in Berlin, telling parliament in her first speech since becoming chancellor that she wanted to make a "visible sign in Berlin to commemorate the injustice" suffered by the refugees.
But Marcinkiewicz was conciliatory on Friday, telling a joint press conference with Merkel on Friday.
"I am convinced we can begin a fresh chapter today," he said.