Speaking in Austria on Saturday, Sept 20, Merkel said her government had tried in vain to win G8 support last year for tighter regulation of hedge funds and financial oversight of capital markets, hinting that she felt vindicated in her stance as a financial disaster unfolded on Wall Street in recent days.
"It was said for a long time 'Let the markets take care of themselves' and that there is 'no need for more transparency'," Merkel said at a rally in Linz, where she was campaigning on behalf of the Austrian conservative People's Party (OeVP).
"Today we are a step further because even America and Britain are saying 'Yes, we need more transparency, we need better standards for the ratings agencies'," Merkel said.
Merkel: Not enough support from US, Britain
In a seperate interview with a Munich newspaper, Muenchner Merkur, to be published on Monday, Merkel criticized the US and British governments for obstructing Germany's efforts in the first half of 2007 to bring greater transparency to the markets.
"I criticise the perception that the financial markets have of themselves," she told the paper. "Alas, they have opposed for too long the introduction of rules with the backing of the British and American governments," she said.
"On top of national rules, we need more international agreements to stem irresponsible financial speculation."
Merkel said that when Germany headed the G8 group of industrialized nations last year, it had advocated greater transparency in international financial transactions, especially in hedge funds.
She said a single nation like Germany could do little by itself to fix the international financial system.
"That's why I and Finance Minister (Peer) Steinbrueck insisted back in 2007 during the German presidency of the Group of Eight that we need more rules for greater transparency in international money dealing, with the ratings agencies and with the hedge funds," she said.
But the United States and Britain "did not back this to the degree required," she said. "That was regretable at first but that's changed in the meantime," the chancellor added.
Germany freezes short-selling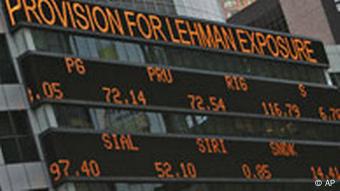 The US and Britain have already banned the practice
Meanwhile, Germany halted short-selling in financial shares, when investors borrow company stock to sell it, following the example of Britain and the United States.
The ban affects 11 shares including those of AAreal Bank, Allianz, AMB Generali, Commerzbank, Deutsche Bank, Deutsche Boerse, Deutsche Postbank, Hannover Re, Hypo Real Estate, MLP and Munich Re.
The Federal Financial Supervisory Authority, or BaFin, said short sales were banned with immediate effect until the end of the year, underscoring that they could lead to huge losses in the current global financial turmoil.
"In the prevailing situation in the markets, these could lead to losses for financial institutions," BaFin chief Jochen Sanio said.
However, the ban will be reviewed routinely, BaFin said.
Short-selling can put enormous pressure on markets if sentiment turns negative -- as it has done over past months in the credit crunch -- and is considered partly responsible for the dramatic fall in share prices seen in once mighty investment banks and other financial groups.
Short sales are designed to profit from a declining share price by an investor or broker arranging a sale of a share he does not own but has "borrowed" on an agreement to return the share at a future date.
In effect, the investor or broker is betting that the share price will fall and that they will make a profit.
Short sales have been banned in Britain until January 16 and in the United States until October 2.