"We do not think much of the idea of a new package of measures" to underpin the economy, Merkel told a press conference in Munich on Friday, March 13, after a meeting with employers.
Splits have emerged ahead of a meeting in London on Saturday of the Group of 20 finance chiefs, with the United States and Japan backing more stimulus spending and European leaders pushing tougher regulations as the best way out of the global economic crisis.
The G20 group of developed and emerging economies will discuss measures to get their economies back on track at an April 2 summit in the British capital.
Just three weeks before the April summit, discord seems to outweigh lip service to coordination. A German-French drive to focus on cross-border rules for finance is further souring the air.
"We have agreed that Germany and France will send a common signal at this summit" on April 2, German Chancellor Angela Merkel said at a joint press conference with French President Nicolas Sarkozy in Berlin on Thursday.
"The issue is not spending even more but to put in place a regulatory system to prevent the economic catastrophe that the world is experiencing from being repeated," Merkel said in a direct rebuttal to US calls for more spending.
There must be "regulation and transparency of financial markets," she said.
"We consider that in Europe, we have already invested considerably," Sarkozy told reporters.
Countries like France and Germany feel they have already drawn up substantial stimulus packages, with Berlin drafting two plans worth a total 81 billion euros ($104 billion).
Europe wary of Obama's pump-priming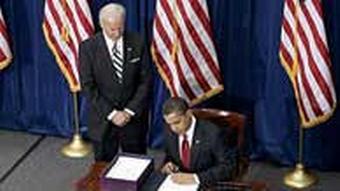 Obama signed off on a stimulus bill which dwarfs the EU's efforts
US President Barack Obama, who enacted a $787-billion stimulus bill last month, tried to bridge the gap on Wednesday, calling for a two-pronged G20 effort to fix the global economy: stimulus measures and regulatory reforms.
But after a meeting of euro zone finance ministers this week, their chairman Prime Minister Jean-Claude Juncker of Luxembourg rejected the US calls for more pump-priming by other G20 economies, declaring such proposals "do not suit us."
Juncker, after conferring with Czech officials in Prague on Thursday, again voiced opposition to any additional spending plan to combat the crisis.
"The European recovery program represents a spending level of 3.4 to 4.0 percent of GDP," he said. "Our public finances are beginning to suffer and we must take account of the effects these programs will have in 2009 and 2010 before we undertake additional spending."
The US stimulus is substantially more than the 400 billion euros engaged by the 27 EU countries. The two total economies are of comparable size, but the EU has not forged an integrated response.
US eager to inject more cash; Europe balks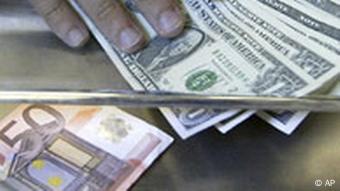 The US wants to pump more dollars into the economy
US Treasury Secretary Timothy Geithner has also called for the International Monetary Fund's "New Arrangements to Borrow" credit program to be boosted to $500 billion -- far more than proposed by the Europeans.
For the whole of 2009, Britain is chairing meetings of the G20 -- a grouping of 19 developed and developing countries plus the European Union. G20 nations include China, Germany, Japan, Mexico, Turkey and the United States.
The main point of contention appears to be a push by the United States and Britain -- which have angled much of their rescue spending on boosting demand -- for some leading EU countries to do likewise.
The United States and Britain have included heavy demand-side measures, such as a cut in sales tax in Britain, because they stimulate activity quickly.
Europeans accused of being too industry-focused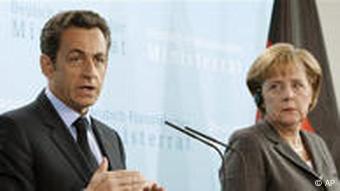 Sarkozy and Merkel want to protect their industrial sectors
They argue broadly that some countries, principally Germany but also France, have focused unduly on increasing state spending on investment in industry and infrastructure and should now allocate extra funds to spark consumption.
However, leading countries in Europe face constraints on their big budget deficits, which are rising markedly above EU limits.
German officials have also begun to talk about "exit strategies" from the massive state spending and support program once the crisis begins to abate.
European Commission chief Jose Manuel Barroso on Thursday defended Europe's efforts to soften the blow of the global crisis.
"The social system of Europe is very different from the American one," he told a news conference in Brussels.
"We have, compared to the US, a very ambitious system of social safety nets, in terms of unemployment, in terms of public health and in many other areas.
"So when we talk about fiscal stimulus, it's not the same thing in the US and in Europe because the Americans usually think about discretionary additional fiscal stimulus," he said.