Chinese Premier Wen Jiabao is due to meet with German Chancellor Angela Merkel on Tuesday for high-level talks at which bilateral trade and the euro currency crisis are expected to be top of the agenda.
Merkel received the premier at a villa just south of the German capital on Monday evening. Wen was accompanied by an entourage of key ministers expected to take part in a joint Chinese-German cabinet sitting.
Wen arrived in Germany, the third and final leg of his European tour, after securing trade deals worth almost 1.6 billion euros with British Prime Minister David Cameron earlier Monday.
Before his trip to Europe began last week, Wen explained to his government that solving Europe's debt crisis would be of great interest to China.
Hong Lei of the Chinese Foreign Office stated that "China is ready to help European countries now and in the future." He explained further that some measures to boost economic cooperation have already been taken; for example, China has started buying EU bonds.
Strengthening the markets?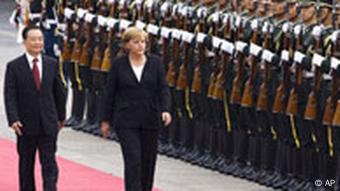 Relations with China suffered after Merkel received the Dalai Lama
Europe's debt crisis could become top priority on Wen's agenda during his visit to Berlin. Eberhard Sandschneider of the German Council on Foreign Relations (DGAP) believes stabilizing the euro is very important, both for Germany and for China "but China is not likely to save Greece and the euro right away."
Sandschneider says national debt is not a bilateral topic, but a multilateral one and that China must therefore commence talks with the European Union.
China's foreign exchange reserves of over $3 billion (around 2.1 billion euros) are the largest in the world. One fourth of these are in euros. According to official Chinese statements, China has already bought up debt from euro countries for billions of dollars since April alone.
Gu Xuewu, a political scientist at Bonn University, believes Wen's visit will have more of a suggestive meaning. He says it might have a positive effect on the markets as long as "the euro crisis does not get any worse." The visit could also set a precedent, considering that not only the World Bank and the IMF, but also a booming economy like China is interested in helping Europe out of its crisis. Helping the eurozone out of its crisis is in China's interest
Another tile in the mosaic
Thirteen Chinese ministers are accompanying Wen Jiabao for the first round of German-Chinese government consultations in Berlin. For China, this is a completely new form of cooperation.
Sandschneider believes the summit is more a demonstration of how much the two countries mean to each other. "Cooperation between Germany and China is already extremely high. So it is really just adding another tile to the Sino-German mosaic of friendship," said Sandschneider.
He believes this new form of cooperation is an example of how important international cooperation can be in times of hardship.
Human rights as a compulsory exercise
The big challenge for the German-Chinese friendship began when German Chancellor Angela Merkel received the Dalai Lama in September 2007. Beijing interpreted it as an insult and said Germany was "interfering with its domestic affairs." Activist artist Ai Weiwei was released just days before Wen Jiabao's visit to Europe
The visit by the Tibetan leader led to a number of official talks between Germany and China being cancelled or postponed. The bilateral relationship recovered slowly; during a tour of the Terracotta Army in Xi'an in 2010, it seemed as though harmony between Merkel and Wen had been restored.
But Merkel still takes every opportunity she gets to talk to the Chinese government about human rights. Though the Chinese have always patiently listened to her, it has never seemed to have any effect.
Human rights are integral to Germany's domestic politics - that is something that China has gotten used to by now, says Gu. "Beijing has realized that domestic politics play a role in why Western leaders push the topic with China. They don't necessarily want to force China to change." He points out that it has become somewhat of a pattern - if there are talks about economic cooperation, the issue of human rights also has to be raised.
Whether or not such talks will have any effect is not certain. Two days before Wen's departure, the Chinese artist and dissident Ai Weiwei was released after having been detained since the beginning of April.
Not all, but some experts have interpreted Ai's release as China taking a step towards the Europeans. Jean-Pierre Cabestan of Hong Kong's Baptist University told the German press agency dpa that the timing surely has something to do with Wen's visit to Germany. But that "there is much more behind Ai's release than Wen's trip to Europe."

Author: Cao Haiye / sb, Darren Mara
Editor: Martin Kuebler