Medvedev stood firm and justified Russia's military action in Georgia, calling it humanitarian intervention and warned that if pressed Russia would respond in the same way again.
"If our peacekeeping troops and our citizens are attacked, we will respond in the future in the same way that we have responded. Let there be no doubt about this," Medvedev said after talks with German Chancellor Angela Merkel in the Black Sea resort of Sochi Friday, Aug. 15.
Medvedev insisted that Russia was "the guarantor of security in the Caucasus and the region" and that Russian troops would remain in Georgia.
The Russian president expressed renewed support for the breakaway Georgian regions of South Ossetia and Abkhazia, where Russian troops are stationed.
"After what has happened, Ossetians and Abkhaz will scarcely be able to live in one state with the Georgians," he said.
Merkel described Russia's military action in sending troops into South Ossetia and further into central Georgia around the city of Gori as "in some aspects disproportionate."
Merkel said she had "to say that I found some of Russia's actions disproportionate and in particular think the presence of Russian troops in Georgia proper is not sensible. Russian troops should withdraw from central areas in Georgia."
But she acknowledged some of the Russian actions were reasonable. "Both sides are probably to blame," she said.
Georgia's territorial integrity a key point to peace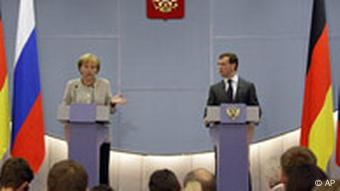 Merkel said some Russian actions were "disproportionate"
The German chancellor called for Russian troops to withdraw from central Georgia to the sites set out in a six-point European Union plan put forward by President Nicolas Sarkozy under France's EU presidency.
"The basic point for a political solution must be Georgia's territorial integrity," Merkel said.
Sarkozy traveled to Moscow and the Georgian capital of Tbilisi on Tuesday and Wednesday to broker a cessation in the hostilities and to sketch a program for a lasting ceasefire.
"We agreed with French President Sarkozy's main principles for resolving the conflict... These principles must be accepted by the Georgian side," Medvedev said.
Merkel stressed the need for both peacekeepers and observers to be stationed in the crisis region.
NATO offer still on the table, Merkel says
She noted that there was a democratically elected government in Tbilisi and insisted that each country had the right to decide whether it wanted to apply for membership of NATO, the US-led Western alliance.
"The agreements reached in Bucharest remain valid," Merkel said, referring to the alliance's summit held in the Romanian capital in April.
"Georgia and Ukraine could be members of NATO, we have left the timing open and we have said they could be made members if they want this and that position remains," Merkel added.
Georgian President Mikheil Saakashvili has set a clear course for NATO membership, against strong objections from Moscow.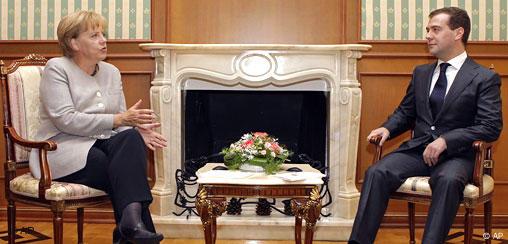 The issue of Georgia and NATO was tackled with Merkel reiterating the West's stance
In a clear attack on Saakashvili, Medvedev said the main issue was to "restore peace and to ensure that nobody again has such idiotic ideas."
"We have the impression that Saakashvili is opposed to the diplomacy of the past 15 years," the Russian president said.
Medvedev wants to avoid new Cold War
Medvedev wants to avoid falling out with the West
But he also said Russia wanted good relations with the EU and the United States.
"We don't want a long- or short-term warming of relations with the European Union, with the United States, or with other countries," he said. "We are ready to work with everyone openly and in good faith and we do not want to curtail our relations with any parties," Medvedev said.
Both leaders regretted the loss of life and widespread destruction in the conflict, with Merkel calling for international observers and aid to be allowed into Georgia.
"We are of course not against international peacekeepers... but the problem is that the Abkhazians and the Ossetians do not trust anyone except for Russian peacekeepers," Medvedev replied.
In remarks published as Merkel was heading for Sochi, Russia's ambassador to Berlin, Vladimir Kotenev, told mass-circulation German newspaper Bild that Medvedev would present evidence to Merkel of Georgian atrocities.
"Women and children were murdered, churches packed with refugees set alight and entire villages razed," he told the paper
Merkel said evidence had been presented but this was unnecessary as "every war is terrible."
Ahead of the visit, Merkel made clear that Georgia's sovereignty and territorial integrity had to be respected, echoing the line taken by US President George W Bush.
As Merkel was meeting Medvedev, US Secretary of State Condoleezza Rice was in Georgia to show support for the pro-Western government of President Mikheil Saakashvili and discuss a peace plan.
Merkel is to travel to the Georgian capital of Tbilisi on Sunday to hold talks with Saakashvili.
Russian general: Troops pulling out, ceasefire holding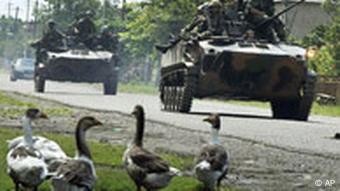 Russian troops are allegedly pulling out of Georgia
In developments elsewhere, the Russian military's general staff in Moscow announced that Russian and Georgian troops have largely withdrawn from the South Ossetia conflict zone.
Both sides are therefore complying with the terms of the ceasefire declaration, Deputy Chief of Staff General Anatoly Nogowizyn said as reported by the Interfax news agency.
The general criticized Georgian troops, alleging they had mined a number of civilian areas prior to their return to barracks.
Nogowizyn also rebuffed Georgian claims that Russian troops had largely destroyed the town of Gori.
"On Thursday there were 120 journalists, foreign diplomats, and members of the orthodox clergy in the town. None of them saw the alleged destruction that the Georgians have so colorfully described."
According to Nogowizyn, the conditions in the six-point framework plan which was drafted by French President Nicholas Sarkozy with Russian President Dmitry Medvedev have already been fulfilled.
"There is no new violence, and the ceasefire is fundamentally intact. Meanwhile there is free passage for aid agencies," the general said.