Chancellor Angela Merkel achieved her highest approval rating among German voters in more than two years, while for the first time a majority said President Christian Wulff should resign, a poll by public broadcaster ARD said Friday.
Merkel's conservative Christian Democrats (CDU) reached only 36 percent of voter support, but 64 percent of respondents said they approve of Merkel's own job performance. It was the highest approval rating since December 2009, three months after she won reelection in general elections.
The numbers were likely boosted by Germany's relatively healthy economy and record-low unemployment rates. And while fellow European Union countries often criticize Merkel as a hardliner who has imposed crippling austerity measures on heavily indebted countries like Greece, her own constituents appear to stand behind her positions.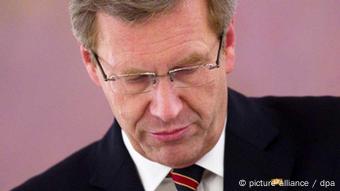 For the first time, a majority of Germans think President Wulff should resign
A large majority of 73 percent said Merkel was "honest and not seeking her own advantage" while 61 percent said she has taken "correct and decisive action" in addressing the eurozone crisis. Eight-five percent said they appreciated "how she represents our country in the world."
Bad news for Wulff
Despite her own positive ratings, the poll suggested no relief for scandal-ridden President Christian Wulff. For the first time ever, a majority of Germans - 54 percent - said Wulff should resign.
Wulff has faced a series of scandalous allegations, including claims he lied to lawmakers in his home state when he failed to reveal ties to a wealthy businessman.
Satisfaction with the work of Merkel's center-right government reached its highest approval rating yet, at 42 percent. However The CDU's junior coalition partner, the business-friendly Free Democrats (FDP), won a minuscule 3 percent - not even enough to clear the threshold to make it into parliament.
The independent opinion research firm Infratest Dimap conducted the poll of 1,501 people between January 30 and February 1. The margin of error was 1.4 to 3.1 percent.
acb/ slk (AFP, dpa)