Angela Merkel, the leader of Germany's Christian Democrats (CDU), the country's main opposition party, announced on Sunday that she supported the creation of a petition against Turkey's membership to the European Union .

The CDU chief told German television station ZDF that the CDU were considering taking their resistance to Turkey's membership of the EU to the streets and reiterated an earlier call for an alternative offer. "I think we should consider having a petition for privileged partnership and against full membership," Merkel said, adding that the petition was likely to be carried out.
The proposal for a petition against Turkish membership was originally presented by Michael Glos, a senior politician in the CDU's sister party, the Christian Social Union (CSU).

Last month, Merkel sent a letter to conservative politicians across Europe, calling for a united front against Turkey's bid to enter the EU. Among the letter's recipients were Italian Prime Minister Silvio Berlusconi, French Prime Minister Jean-Pierre Raffarin, Dutch Prime Minister Jan-Peter Balkenende and Greek Prime Minister Kostas Karamanlis.

Merkel recommends alternative to membership
In the letter, Merkel proposed offering Turkey a privileged partnership with the European Union rather than a full membership. She praised Turkey's recent reforms but said the European Union would be overwhelmed if it tried to take Turkey in as a full member.

Merkel and others have said Turkey's large and growing population, which might eclipse Germany's as early as 2020, mean the poor, Muslim country would place too much economic and cultural pressure on current EU states if it were admitted to the union.

Despite Merkel throwing her political weight behind the petition idea, there is no blanket support for the proposal. The leader of the European Parliament foreign affairs committee, Christian Democrat MEP Elmar Brok told Reuters that he "suffered stomach aches over the proposal."
Other options a possibility, says Brok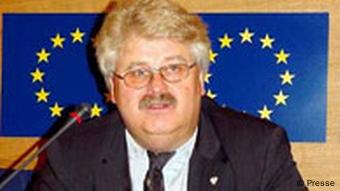 Elmar Brok.
Brok added that the European Commission recommendation that Turkey begin entry talks without a guaranteed outcome clearly implied that options other than accession were possible. He noted the EU executive had said last week that whatever the result, Turkey should remain "fully anchored in European structures."
"That's a clear indication that it is considering other possibilities in the relationship," he said.

However, Volker Beck, parliamentary leader of the Greens, the junior partner in Germany's ruling coalition, called the initiative "foul" and "irresponsible", according to the Frankfurter Allgemeine Zeitung. German Chancellor Gerhard Schröder too said that for him the strategic and security policy arguments for Ankara's bid for EU membership were decisive.

If Turkey's reforms develop further, then "we could stabilize the land and create a link between European enlightenment and non-fundamentalist Islam", he told Reuters Deutschland.

Turkish ambassador calls petition "discrimination"
The call for a petition comes as the Turkish ambassador in Berlin, Mehmet Ali Irtemcelik, called for his 1.9 million compatriots living in Germany to do more to integrate themselves in their adopted country. "It is important for the image of Turkey for our citizens to contribute to this land." Irtemcelik criticized the call for the petition against Turkey's EU membership, calling it "discrimination."
The final decision of whether to start membership negotiations with Turkey lies with EU leaders who meet in Brussels for a summit on December 17.