The one-day meeting came ahead of an EU climate change summit on December 11-12, at which the bloc hopes to institute a system by 2013 to auction off permits for the right to emit carbon dioxide.
Poland, which is heavily dependent on coal, has expressed serious reservations about the proposal as well as the bloc's goal of cutting greenhouse gas emissions by twenty percent of their 1990 levels by 2020.
It had even hinted at the possibility of vetoing such a deal, which it says would favor more established EU member states over newer ones.
Merkel, who has vowed to resist any EU climate measures that would cut German jobs, said that she and her Polish counterpart were basically on the same page on this issue.
"We have made a great step forward," Merkel told journalists after the meeting. "The possibility of a veto has become smaller."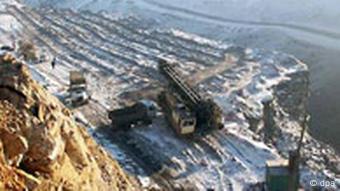 Most of Eastern Europe requires coal to meet its power needs
Tusk concurred with that assessment.
"Neither Poland nor Germany are interested in a veto," the Polish Prime Minister said. "We want to work out a package which will take into consideration everyone's concerns."
Perhaps with an eye toward France, which is hoping to pass the agreement unanimously, Merkel said that EU member states needed to understand one another's needs.
"Poland wants to push back the auctioning process and that is understandable, given that Poland has a long way to go before replacing its coal-fired power plants," she said. "But obviously we need to talk about the details here."
Those talks will be held in Brussels later this week. But with many EU members worried about climate change, there's no guarantee the tone will be as amicable as at the Merkel and Tusk's meeting.