With the recession tightening its grip on the German economy, Merkel is betting that job reassurance is more important to the average worker than being a pioneer in tackling climate change. On Monday, she vowed to fight any EU climate deal that could jeopardize German jobs.
Speaking ahead of a European Union summit starting Thursday in Brussels, Merkel told the top-selling Bild newspaper: "It must not take decisions that would endanger jobs or investments in Germany."
"I will make sure of that," she added.
During her presidencies last year of both the EU and the G8, Merkel was sharpening her profile as the "climate chancellor." She traveled to Greenland to draw attention to melting ice floes and promised that Europe would lead the way on climate issues by cutting greenhouse gas emissions by 20 percent by 2020 (compared to 1990 levels.)
Now, though, the financial crisis and domestic worries are causing her to revise her message. According to an unpublished report by the economy ministry, Germany risks losing more than 100,000 jobs if the EU were to force industries to pay for pollution rights that are currently free.
Another study by the Muenster-based EEFA research institute pointed to increased costs stemming from reforming pollution rights, making Germany's key industrial sector less competitive and threatening up to 300,000 jobs by 2020.
Environment activists outraged
Representatives from Germany's strong environmental lobby said they were "horrified" by the chancellor's apparent U-turn.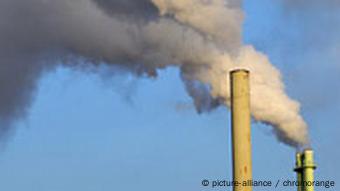 Berlin wants emissions allowances to be free for heavy industry
"Last year, the chancellor put herself about as the climate chancellor, now she's fighting to ensure that German industry keeps rights to pollute for free," Oxfam Germany's spokesman Jan Kowalzig said in a statement Monday.
Under the EU climate deal, companies would in future have to purchase rights to pollute.
And while Berlin wants most emissions allowances to be free for heavy industry, the EU plans would see the percentage auctioned off gradually increased up to 100 percent in 2020, when every ton of CO2 will have to be bought.
French President Nicolas Sarkozy is hoping to clinch a deal on climate change before France's EU presidency ends on January 1. Most of the resistance comes from former East bloc countries, many of which rely on heavily-polluting coal-fired plants for energy. Sarkozy said there ahd been progress during talks on Saturday with leaders meeting in the Polish city of Gdansk.
"We are not at the end of the discussion, but we have progressed," he said.
An EU climate deal would brighten prospects for a UN climate deal to be agreed late next year in Copenhagen.