European and Russian mediators prepared to take a second stab Wednesday at resolving the leadership crisis plaguing Ukraine.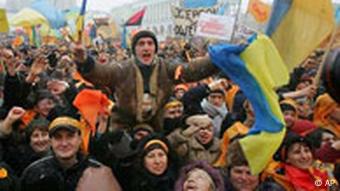 Thousands of demonstrators waving Ukrainian national and orange flags gather to protest alleged fraud in the presidential elections on the main square of the Ukrainian capital Kiev.
Thousands of demonstrators have blocked public buildings in Kiev since the Nov. 21 election results were rejected amid fraud accusations. Pro-Russia Prime Minister Viktor Yanukovych has been locked in a bitter dispute with his Western-leaning rival after he was declared winner. But his opponent, Viktor Yushchenko, refused to accept the result charging the election fraudulent. The charge is supported by independent observers.
On Tuesday, the pro-western Yushchenko camp backed out of talks that were underway between the two camps, demanding instead either new elections or recognition of their candidate as president.
Mediation underway
European Union foreign policy chief Javier Solana huddled overnight with Ukraine's outgoing President Leonid Kuchma in a bid to iron out a united strategy for a day of meetings with the two presidential rivals.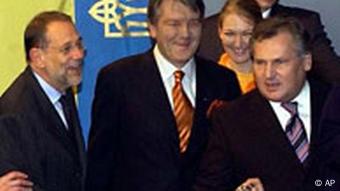 European Union foreign policy chief Javier Solana, left, Ukraine's opposition leader Viktor Yushchenko, center, and Polish President Aleksander Kwasniewski, right.
The immediate goal of talks -- which Wednesday were joined by Polish President Aleksander Kwansniewski, Lithuanian President Valdas Adamkus and Russian mediators -- is to get Ukraine's two foes to meet.
In earlier talks Tuesday, opposition leader Yushchenko shot down two proposals floated by the Kremlin-backed Yanukovych for ending the crisis. The Western-leaning camp later announced it was breaking off all negotiations.
The first proposed plan would have seen Yanukovych become a figurehead president while Yushchenko headed the government and became Ukraine's main policymaker. The second idea was for both men to agree not to run in a brand new election.
Secret no-confidence ballot
But the opposition believes momentum has shifted to its side as the standoff enters the tenth day of noisy and colorful street rallies in the wake of the disputed presidential election. Yuschenko supporters Wednesday renewed their call to blockade government buildings, effectively paralyzing the government.
"If Kuchma and Yanukovych give up, they know they will end up in prison. That is why they are fighting for power with their last breath," Andrei Matkievsky, a 21-year-old protester from Ukraine's western opposition region of Zhitomir told AFP news service.
Staving off panic
The crisis has further begun to foment panic among ordinary Ukrainians and there have been early signs of a run on the banks. Authorities have slapped down currency withdrawal restrictions and the central bank has warned it was slowly starting to bleed reserves while trying to prop up the national currency.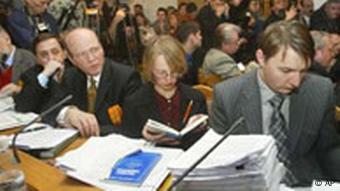 Representatives of presidential candidate Yushchenko view documents with court observers during the first sitting of the Ukraine's Supreme Court in Kiev, Monday, Nov. 29, 2004.
Against this backdrop the supreme court of Ukraine sat down for the third day to study thousands of alleged violations recorded in the November 21 vote and see if it should declare the election a fraud.
EU troubleshooter Solana refused to make any predictions after failing to get the two rivals to agree to anything but the simple fact that bloodshed must be avoided in a three-hour roundtable meeting Friday night.
"I hope that with the goodwill of everyone, we will make some progress in the coming days," Solana said late Tuesday night.
Warning from Poland
Meanwhile Polish President Alexander Kwasniewski arrived in Kiev after first receiving words of encouragement from US President George W. Bush -- with Washington saying for the first time that it thought a new vote was a viable compromise option.
After arriving in Kiev, Kwasniewski warned that the political crisis in Ukraine could snowball unless it is resolved rapidly.
"There is a risk if the crisis drags on" and it needs to be settled as soon as possible, Kwasniewski said after meeting Lithuanian President Valdas Adamkus and EU foreign policy chief Javier Solana.
"If we keep at it and our Ukrainians partners are ready to talk, there are chances of finding a compromise," the Polish president said.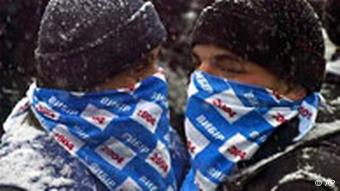 Supporters of Ukraine's prime minister Viktor Yanukovych, wear blue and white kerchiefs
Meanwhile, a group of nationalist deputies in the Russian parliament showed up for work Wednesday wearing blue-and-white scarves with the inscription "For Yanukovych" in a show of support for the pro-Russian Ukranian presidential candidate.
"We are showing our solidarity with the majority of Ukrainian citizens who chose their president, Viktor Yanukovich," and with the deputies of the Ukrainian parliament who are supporting him, Duma deputy speaker Vladimir Zhirinovsky said.