Oct. 31: The two protagonists are neck-and-neck after the first round vote as official observers report "serious irregularities" in the poll. Opposition supporters report that more than one million voters have been denied the right to vote.

Nov. 10: Official results of the first round show Yushchenko on 39.87 percent of the vote, narrowly ahead of Yanukovych on 39.32 percent.


Nov. 21: The runoff second round vote takes place.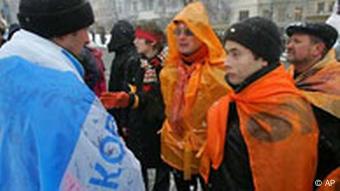 Supporters of Prime Minister Viktor Yanukovych, in the blue flag, and opposition candidate Viktor Yushchenko, wearing orange ribbons and raincoats discuss the results of the elections in downtown Kiev on Nov. 24, 2004.
Nov. 22: At a mass rally in Kiev, the opposition calls for supporters to stand firm until Yushchenko is declared the winner. OSCE observers say the vote was not democratic. European foreign ministers warn Kiev of the consequences to diplomatic relations of recognizing the vote, while Russian President Vladimir Putin congratulates Yanukovych on his "convincing" victory.
Nov. 23: The protest movement gathers momentum with an estimated 100,000 people taking to the streets of Kiev. The same number are mobilized in Lviv. Yushchenko appeals to the world to recognize him as president.

Nov. 24: More than 100,000 protestors again occupy Kiev's Independence Square and tens of thousands take to the streets of Lviv. Yanukovych is officially proclaimed the winner by the central electoral commission as Yushchenko calls for a general strike and the opposition vows to block roads, airports and railways. US Secretary of State Colin Powell rejects the election results and warns of unspecified "consequences" if Kiev does not retract.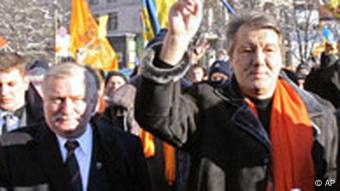 Former Polish President and Solidarity trade union leader Lech Walesa (left) and leader of the Ukrainian opposition Viktor Yushchenko greet supporters during a rally in Kiev.
Nov. 25: Orange-clad opposition supporters regroup and form human barriers near the presidency as special forces ring the building. Teachers in Lviv go on strike and thousands of university students boycott classes. The Supreme Court gives the opposition a glimmer of hope by delaying publication of the results and Polish Nobel peace prize winner Lech Walesa (photo) is in Kiev to mediate in the dispute. Dutch Prime Minister Jan Peter Balkenende, whose country holds the rotating EU presidency, tells Kuchma the election results were unacceptable.

Nov. 26: Yanukovych tells supporters he would not allow the opposition to "overthrow the constitution" and calls for calm, saying he does not want the presidency if it "provokes bloodshed." Moscow reacts angrily to direct European intervention as the two presidential rivals were due to meet for the first time in the presence of top European and Russian mediators, including Presidents Aleksander Kwasniewski of Poland and Valdas Adamkus of Lithuania, EU foreign policy chief Javier Solana and Russian parliament speaker Boris Gryzlov (photo, below).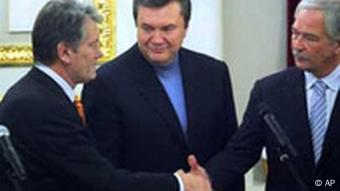 Yanukovych (center) looks on as Yushchenko (left) shakes hands with Russian parliament speaker Boris Gryzlov after their negotiations in Kiev on Nov. 26.
Some 25,000 Yanukovych supporters gather in central Kiev in readiness to march on the opposition demonstration. Thousands of cheering opposition supporters prevent Yanukovych entering his office while an opposition spokesman tells Bulgarian TV that 1,000 Russian troops are on standby in Kiev ready to intervene if violence breaks out.

Nov 27: Ukraine's opposition wins a symbolic victory in its battle over the disputed vote when parliament declares the election results invalid in a non-binding resolution. In the largest pro-Yanukovych rally to date, some 100,000 people mass in the eastern city of Donetsk, where authorities warn that they will seek more autonomy if Yushchenko becomes president. Yanukovych bastions Odessa and Crimea issue similar warnings, after several western regions said they would only recognize Yushchenko as their president, stoking fears that the standoff could split Ukraine apart. Russia accuses the West of fomenting unrest in Ukraine. The European Union urges Ukraine to hold new presidential elections by the year's end. Representatives of the two rivals meet to try to find a solution to the political crisis.