The wisdom and strength of the Shaolin monks has been made famous worldwide through numerous martial arts movies and books. Now this wisdom is being harnessed by German business managers.
In two half-day seminars at a converted cloister (now a hotel) near Bonn, those attending can learn how to use the philosophies of the Shaolin monks in their stressful daily lives.
The course is run by Shi Yan Bao, a Chinese monk who has lived in Berlin since 2001. In between his work as a martial arts teacher, he runs coaching sessions teaching people the basic philosophy of Shaolin.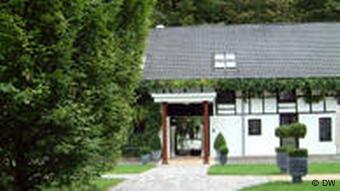 A former cloisters is the quiet setting for the course
Using martial arts
In a quiet room in the hotel, a group of managers are dressed in jogging bottoms and sports shoes, and taking part in a series of Qigong exercises. Qigong is a type of Chinese physical and mental training, combined with a little martial arts.
The eight men and women are led through the exercises by Shi Yan Bao who teaches them how to stay calm and focused. In the background, Chinese music is playing.
One of those taking part is 26-year-old Tanja, who works in a management consultancy. She says she is taking the course as she is at a crossroads in her career.
"I've been abroad lots, lived a lot and now I'm at a point where I don't know if my job still has meaning for me," she tells Deutsche Welle. "So it's a good opportunity for me to look back and reflect a little."
Mixing the physical and the mental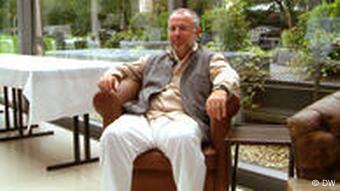 Psychologist Ralph Willms takes the managers through the theory
After an hour of martial arts, the theory session begins with psychologist Ralph Willms. Casually dressed, Willms articulates the philosophy behind the course, and takes the managers through a whistle-stop tour of philosophy. He touches on Jung, Freud, Aristotle and of course, Buddha.
"When we talk about coaching or spiritual development, it is always good to have a map," Willms tells the audience. "So we know where we are, where we've come from and where we're going."
With a soft voice, he takes the five men and three women on the course through steps to help them concentrate and meditate at work. As he speaks to each of them, it is clear they all have stressful jobs, an unfulfilled private life and many fear burning out.
Group dynamics
In the afternoon of the second day, Willms asks the group to split into pairs and they take it in turns to hit each other on the back.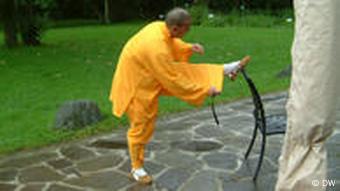 Shi Yan Bao has been teaching in Germany for nine years
"This is how it's done traditionally in China," he says. He tells them the importance of trust as in China they would do this for a couple of years without knowing why.
"For us Europeans, we always need to know why we are doing something," he says, and his audience laughs and nods in agreement.
The mixture of theory and practice seems to work, combined with the energy of Willms and Shi Yan Bao.
At the end of the course, the participants are exhausted, but on the whole enthusiastic. One Austrian manager says the course was "a lot less esoteric than I feared!"
And as for their Shaolin leader Shi Yan Bao, he praises those who took part in the seminar.
"When I'm running these seminars I feel as if I'm on holiday – a real sense of calm. A good group, good managers… I'm happy."
Author: Susanne Luerweg (cb)
Editor: Andreas Illmer