Violence had marred the run-up to the presidential vote, and it continued as the registered 8 million people were encouraged to cast their ballots on Sunday. Voter turnout looked set to be low.
There were attacks on polling stations and election officials were intimidated, despite the deployment of 30,000 security personnel throughout the country.
A Tuareg rebellion and Islamist militancy have dominated Mali's north and central zones since the last poll in 2013.
The 7,000 Malian voters living in Mbera, the biggest Malian refugee center in southeastern Mauritania, registered to vote.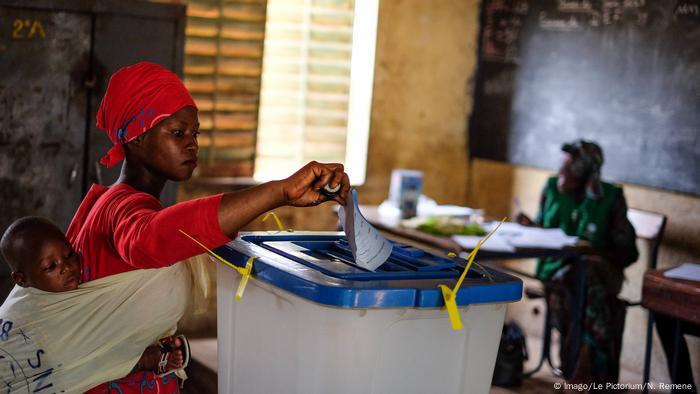 A woman votes in Mali; only one of the 24 candidates is a woman
Attacks on UN mission, villages
The UN mission (MINUSMA) camp in Aguelhok, in the northeast, came under rocket attack although there were no casualties and the rockets did not fall into the camp. "One mortar landed around 100 metres from a polling station so there was a bit of panic," UN mission spokesman Olivier Salgado said.
Ballot boxes were set on fire in the village of Lafia, in the northern Timbuktu region: "Overnight Saturday, armed men arrived at the town hall where the ballot boxes and electoral material were held," a local official said, adding jihadists said "God does not like elections," as they fired shots into the air.
In the central region, armed groups disrupted voting as election officials and staff were attacked and polling stations destroyed.
European observers
Cecile Kyenge, the head of the European observer mission told reporters late Sunday: "The European observer mission calls for the Malian authorities to publish the list of polling stations where voting did not take place."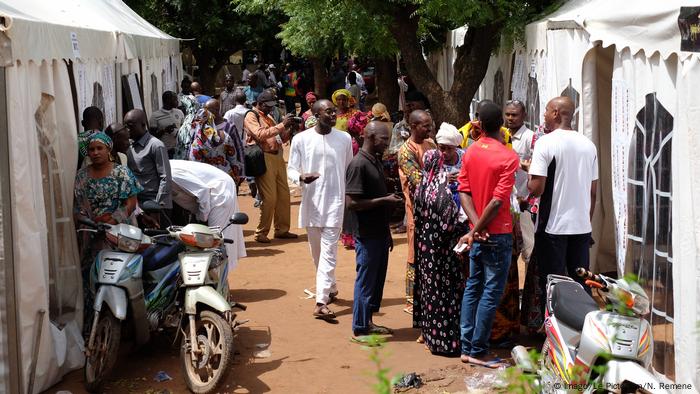 Voters at the Mali polling station where President Ibrahim Boubacar Keita voted
Keita's chance for second term
President Ibrahim Boubacar Keita's inability to control the violence had been a main theme of the election campaign. He made much of an agreement between the government, government-allied groups and former Tuareg rebels to fight jihadist fighters in the north. There has been economic growth under Keita's first term due to increased exports of gold, cotton and rice.
Keita's main challenger is 68-year-old former finance and economy minister Soumaila Cisse, who lost to Keita in the second round of the 2013 election.
If no candidate gains more than 50 percent of the vote in Sunday's first round, a second round will take place on August 12.
.
jm/bw (AFP, Reuters)
Each evening at 1830 UTC, DW's editors send out a selection of the day's hard news and quality feature journalism. You can sign up to receive it directly here.