Atwine Rebecca and her 5-year-old child are back in the winding queue at Kawolo Hospital outside the Ugandan capital Kampala to see a doctor. It is her second visit in eight months to seek treatment for malaria. Laboratory tests show she and the frail-looking girl on her lap have the parasites that spread the disease in their systems, the stay-at-home mother from Lugazi town tells DW.
"It could be because many mosquitoes infested at my home, especially at night," she says. "We sleep under the net but some nights we don't use it."
At Nsambya Hospital in Kampala, many patients present with more complicated malaria cases, resident doctor Dan Kwesiga says. Treatment involves the highly effective injectables quinine, artesunate or artemether. Pregnant women who have contracted the disease are also treated to prevent miscarriage and stillbirth.
Uganda takes mass action
Uganda adheres to international strategies, providing rapid diagnostic tests and effective malaria drugs, Myers Lugemwa, head of malaria control at the Health Ministry, tells DW.
On April 5, the government launched its Mass Action Against Malaria initiative, which hones in on individual households to raise awareness. It also established a parliamentary forum on the disease and recently wrapped up the distribution of 27 million mosquito nets countrywide.
"We also do indoor residual spraying to kill mosquitoes and provide treated mosquito nets," Lugemwa says.
This week, the World Health Organization (WHO) reported that although the fight against malaria has been successful, progress has stalled or slowed in recent years.
Goal: zero infections
The continent still has a high rate of infections because significant gaps exist in the implementation and delivery of malaria interventions in many countries, says Matshidiso Moeti, the WHO's regional director for Africa.
Uganda has dramatically reduced its daily malaria death toll over the past 15 years. Sixteen million cases are still reported every year. The government has its sights set on an infection rate of zero.
But the global Roll Back Malaria Partnership to End Malaria (RBM) reports that Senegal, Madagascar, the Gambia, Zimbabwe and Ethiopia have made the most substantial progress in fighting the disease in Africa.
"If you look at the malaria landscape over the last 15 years, most African countries have made substantial gains and reduced the burden of infections by 40 percent and deaths by 60 percent," says Kesetebirhan Admasu, the RBM's chief executive officer. "But progress has stalled in some countries in the last two years, and we are seeing an increase in malaria cases. Uganda is one of those countries. I would not single out Uganda, but in East Africa and southern Africa it's a combination of factors causing the increase in infections."
War and weather
Admasu says contributing factors include changing weather patterns that cause heavy rain and flooding, the conflict in South Sudan, the refugee situation, and the complex humanitarian emergencies in the eastern Democratic Republic of Congo and Burundi.
"Another major factor is the plateauing of resources," Admasu says. "A resurgence in malaria infections against this backdrop puts the global campaign at a crossroads," he adds.
Africa has for decades relied heavily on the international donor community when it comes to keeping its biggest killer under control. The trend is likely to continue, experts agree.
Malaria drains Africa of an estimated $12 billion (€9.8 billion) a year. A little over double that amount, or $24.5 billion in total, is needed to fight the disease. The bulk of the money comes mainly from the Global Fund and the United States.
"African countries themselves are contributing extra, but going forward we need to see more domestic resources spent and health systems strengthened," Admasu says.
Donor funding shortfall
The average amount of money spent to treat an individual malaria patient, however, declined from $3 to $2.28 between 2010 and 2016.
The WHO this week called the fight against malaria a "success story," but also drew attention to the slowing in progress to curb malaria in recent years and the funding shortfall.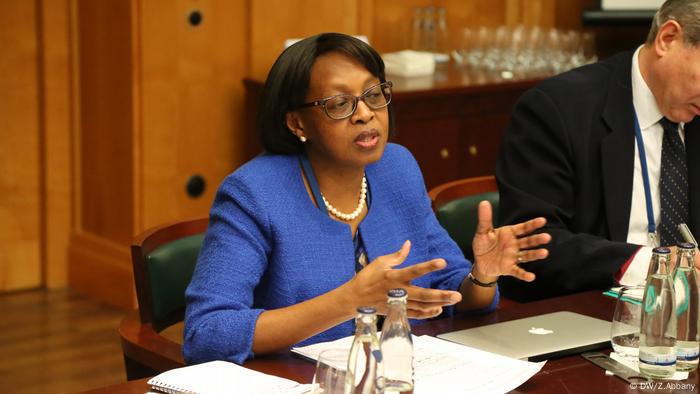 Matshidiso Moeti, WHO Director for Africa, says that more needs to be done to prevent pregnant women from contracting malaria
Africa still faces significant gaps in the implementation and delivery of malaria interventions in many countries, the WHO's Moeti says.
The WHO recommends treating pregnant women with antimalarial drugs to prevent them from falling sick. "But only about 19 percent of eligible pregnant women received the recommended three or more doses in 2016 in the African region," Moeti says.
Access to preventative drugs for children has not expanded rapidly enough, according to the WHO. It is estimated that every two minutes a child dies from malaria, a disease that is easily preventable and treatable, in Africa.
The relatively weak health systems and inadequate investment in health in African countries stands in the way of delivering basic essential health care packages to prevent and treat diseases such as malaria, according to the WHO.
Leaders 'should step up'
Admasu, who is also Ethiopia's former health minister, says continued investment from the international community is essential for meeting the UN's targets on malaria.
"But African leaders, who have endorsed this fight through the African Union, should step up domestic efforts too," he says.
Last year, three Ugandan researchers said they had developed a diagnostic kit that gives a result in two minutes with the help of a smartphone (see video below).
The Matibabu device uses light scattering and magnetism. The Kampala-based researchers said their motivation stemmed from the fact that they had all previously been infected with malaria.
Burkinabe students have created a malaria-repellent soap using shea butter, lemongrass and marigold. The students have now raised money through a crowd-funding campaign and plan to test Faso soap, as they call it.
"We're seeing so many exciting new products and innovations, especially in the vector-control space," Admasu says. "Some of these tools are being developed by Africans themselves and some by Africans in coordination with others."
He adds: "There is a lot in the pipeline, but we have to do what we can with the universal tools proven to save lives."
Frank Yiga in Kampala contributed to this report.