Eight months after winning Tanzania's hotly contested election, Magufuli has earned himself a reputation as a no-nonsense leader. His passion and zeal to end wasteful government spending, curb corruption and improve public service delivery, has endeared him not just with the low income Tanzanians but also many others in the region.
According to anti-corruption watchdog Transparency International, Tanzania is ranked 117 out of 168 in the Transparency International Corruption Perception Index.
#WhatwouldMagufulido trended for several days on Twitter after President Magufuli cancelled Independence Day celebrations and mobilized his citizens to do a nationwide clean-up instead. "It is so shameful that we are spending huge amounts of money to celebrate 54 years of independence when our people are dying of cholera," Magufuli had said.
But in January this year, Magufuli's government stopped the live broadcast of parliamentary proceedings stating they could no longer afford it. He has since banned political rallies until 2020 and has shown a growing desire to restrict social media.
Opposition members have criticized the moves and human rights activists accuse his government of censorship. The right to information is guaranteed under the Tanzanian constitution, but there is no specific article enshrining freedom of the media.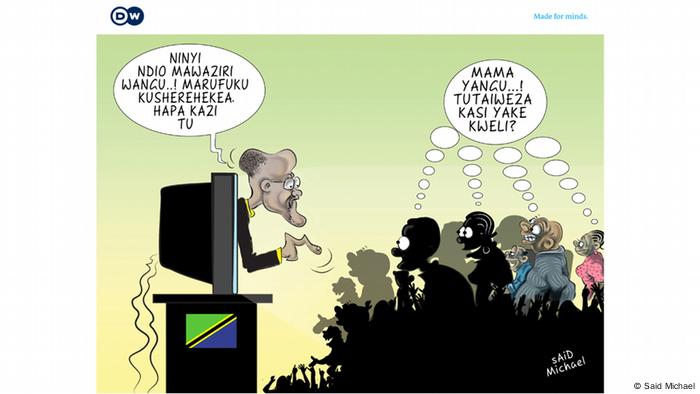 In this Kiswahili cartoon, Magufuli warns his ministers about being lazy on the job.
A group of 11 citizens have filed a petition in the High Court seeking an order to reverse the government's decision to end live broadcasts of parliamentary proceedings. The date for the hearing has been set for July 15.
Controversial Cybercrime Act
The Cybercrime Act saw the creation of the Tanzanian Computer Emergency Response Team (TCERT), which was launched to monitor online "racist and xenophobic" content, child pornography and the fraudulent use of other people's identities.
Civil Rights groups, however, claim the legislation infringes on democratic rights provided for in the constitution. "There is going to be a lot of censorship on what people can post on social media and also what can be said on mainstream media," Asha Jiadinale, a social media consultant and strategist who runs the Jamii forum, a popular online political platform in Tanzania, told DW in an interview.
Jiadinale said she had seen people who have been brought to court in the last few weeks, simply because they wrote something insulting on social media. "That never used to happen," she added.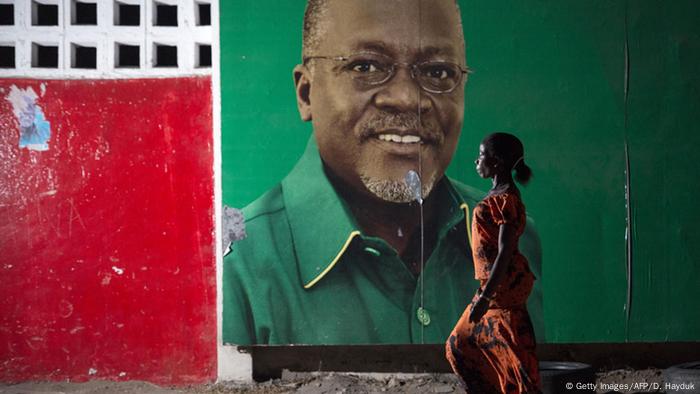 Analysts are still trying to figure out Magufuli's style of leadership.
People using the internet are now more cautious about what they post on social media. Jiadinale thinks the law has gone too far.
"It's not that we don't want the Cybercrime law. We want it because some of the things which are being done online are not good but some sections are not in favor of anyone," she said.
Arrested for posting online
Isaac Habakuk Emily, a social media user, was arrested earlier this year for insulting the president in a post on Facebook that has since been deleted. He was sentenced to 3 years in jail or a fine of 7 million Tanzanian shillings equivalent to $3,000 or 2,694 euros. He was released after a plea by his attorney that allowed him to pay the fine in installments. He is expected to pay 3 million shillings by June 8, 2016 and the remaining amount by August 8, 2016.
Another social media user, Leonard Mulokozi Kyaruzi, was arrested for a message he sent on WhatsApp, a free and encrypted messaging platform that is quite popular in Tanzania.
This is a worrying trend as people are becoming increasingly afraid to engage in political discussions online. They fear that their comments may be perceived as being anti-government. Jiadinale's website has also been contacted by authorities with regards to political comments. People post content on her platform anonymously. "So what happens is they will summon us to give up information about a certain person with a certain ID user name, to give out their IP address or email address which will reveal their true identity," jiadinale added.
Petty dictator?
Tundu Lissu, the chief whip of Chadema opposition party, is facing charges of sedition. Lissu is accused of asking Tanzanians to rise up against President Magufuli, who he allegedly referred to as a 'petty dictator.' He has denied those charges.
President Magufuli says he is keen on cleaning up Tanzania, either in the streets or public offices.
In responding to his critics, President Magufuli has said he would not allow anyone to stand in his way of delivering what he pledged to Tanzanians.
Benson Bana, a political scientist at the University of Dar es Salaam, told DW, Tanzania is a country in transition. "There are so many stumbling blocks to building our democracy and institutionalizing democratic norms," he said.
Wanjiku Mwaura contributed to this article.