Security was tight in Madrid ahead of the first day of an international conference on terrorism which opens in the Spanish capital on Tuesday.
More than 7,000 police were deployed in the streets of Madrid, a NATO AWACS plane enforcing restricted airspace over the city, and an anti-aircraft missile battery set up as four days of speeches and ceremonies marking the one-year anniversary of the train bombings in the city on March 11, 2004 were due to begin.
Political heavyweights such as UN Secretary General Kofi Annan and EU foreign policy supremo Javier Solana, Kings Juan Carlos of Spain and Mohammed VI of Morocco, a dozen heads of state and government and 200 experts are to participate over the course of the four-day symposium.
Summit's final day to coincide with memorial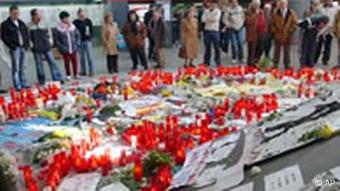 People look at a candle shrine in Atocha station in Madrid Sunday March 14, 2004, following the March 11 bombing attacks.
The final day of the symposium, Friday, will be given over to high-profile addresses, a minute's silence -- and the ringing of the city's church bells at the moment a year ago that four bombs exploded on crowded commuter trains, killing 191 people and wounding 1,900 others.
A Moroccan-based extremist group with ties to Al-Qaeda has been blamed for the carnage and 22 suspects, most of them Moroccan, are in custody.
US President George W. Bush, who has waged a "war on terrorism" since the Sept. 11, 2001 attacks on New York and Washington, has sent his new attorney general, Alberto Gonzales, to attend the conference, organizers said.
US attendance another sign of conciliation
That relatively high level of representation underlined Bush's recent efforts to put disagreement with Europe over the Iraq war into the past and forge a common stance in tackling threats from other quarters, notably from anti-West militant groups.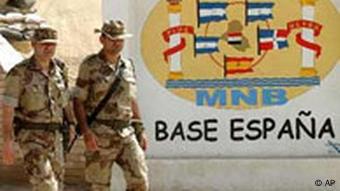 Zapatero pulled out Spanish troops from Iraq.
It in particular sent a message of conciliation to Spanish Prime Minister Jose Luis Rodriguez Zapatero, whose decision to withdraw Spanish troops from the US-led international military force in Iraq sparked anger in Washington.
According to a survey carried out by the radio station Cadena Ser, two out of three Spaniards believe Spain's participation in the Iraq war was one of the reasons the perpetrators of last year's bombing in Madrid struck.
A Spanish parliamentary commission investigating the attacks was to submit a preliminary report Tuesday amid claims from the opposition conservative Popular Party -- which was in power at the time of the blasts -- that it had been too hastily compiled.
Spain's left-wing government, brought in through elections held three days after the blasts, hopes the conference will underline its commitment to fighting terrorism.
44 world leaders due to attend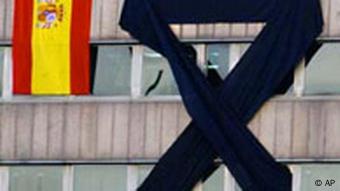 A large ribbon of mourning and Spanish flag are draped from the Telefonica building in Madrid's Plaza Colon in March 2004.
Organized by the Club of Madrid, a pro-democracy body made up of 44 world leaders, the International Summit on Democracy, Terrorism and Security, as the gathering is called, will consist of workshops and round-table discussions Wednesday and Thursday, after the opening speeches and plenary session.
Themes to be tackled by the VIPs and experts from 52 countries include the causes of terrorism, how to tackle it and the role of democracy in sidelining extremists.
The symposium may go some way to explain why, a year after the March 11 bombings jolted the European Union into action in the war against terrorism, the fight remains firmly in the hands of national governments and not a combined EU force.