With London Fashion Week in full swing, venues across the British capital have put on their finest and welcomed the fashion world with open arms. The packed five-day schedule sees a new runway show starting every 60 minutes; in between, there are studio presentations to whet buyers' appetites.
While much mind is paid to the size-zero models parading down the runway, behind these textile joys there's an incredible amount of labor that goes into every last detail of these designer garments. From afar much of the detail goes unnoticed, the handiwork invisible under the spotlights.
Meanwhile backstage, highly skilled hands are performing last-minute adjustments to the gowns and trousers created specifically for this occassion. It's the culmination of six months of planning; the next season's business relies on the average 17 minutes the models spend out on the catwalk strutting the designer's vision. A lot is at stake, which is why many of those involved in the garment creation process have been pullin 15-hour days ahead of the shows.
German handicraft on the British catwalk
Murat Kuscu is one of them. Since completing his Master's in fashion design at London's Royal College of Art eight years ago Kuscu has stayed on in London, working for major labels like Peter Pilotto and Mary Katrantzou.
"Pattern cutters are among the most important people in the entire design process. You need to be able to understand what the designers' vision is and how it can be realized," says Kuscu, who did his initial training as a pattern cutter in Germany before moving to London.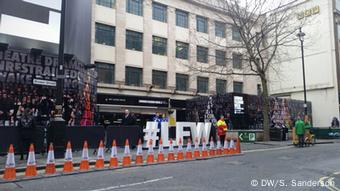 If you make your way there early, you might catch the quiet before the storm at London Fashion Week
"I learned a lot more about pattern cutting during my initial studies in Germany than anyone who attends a university in London. That's the reason why many Germans seem to gain a foothold in the industry here. We bring a lot of the manual skills to the table, which are highly sought after here."
Kuscu, who is contemplating a return to Germany, says his plans have been sidetracked by a demand for his well-honed skills.
"I had originally planned to return to Berlin and start my own label there. Things didn't quite pan out that way," 38-year-old Kuscu tells DW.
Opportunities for those who seek change
Like Kuscu, Anne Wanders is a German working as a pattern cutter in Britain's fashion industry.
Murat Kuscu has spent the majority of his career in fashion in London, as there are more career prospect in the British capital than there are in Germany
"The workshops in London seem to favor Germans because of their vocational training at home, especially when it comes to tailoring and studio management. Of course, there are also opportunities here to work your way up with one of the established tailoring ateliers, like Alexander McQueen did on Savile Row," Wanders tells DW.
Noting that the standardized apprenticeship programs common in Germany are relatively nonexistent in the UK, Wanders says the potential to do hands-on work in London is huge.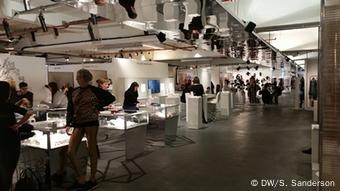 The Showrooms on Brewer Street in Soho highlight the work of up and coming Designers and new labels
"You can venture into a specialized area without having all sorts of qualifications and certificates. There are lots of agencies for freelancers which also facilitate such moves in our careers. In Germany it is not that easy."
Berlin trending
Indeed, there are many reasons it is not easy to work in fashion in Germany, Berlin's lack of business growth potential aside. Murat Kuscu says that the lifestyles appear to be complete opposites.
"Berlin is pretty much the antithesis of London. Here, there's a strong emphasis on the commercial nature of everything," Kuscu muses.
"Germans aren't avid consumers, which is perhaps why fashion takes up a much smaller space in German culture. Those who have the money tend to rather shop for Chanel dresses than try a new, fresh fashion label."
Likewise, as seen in January at the Autumn/Winter 2016 showings in Berlin, Fashion Week in Germany's capital is struggling.
"It is difficult to get buyers and the press to come to Berlin," Wanders says.
"London is simply a lot more established. Many of the big names in fashion are based here. There are also lots of suppliers working for the major chains, bespoke tailors, and international luxury brands. You can find all of these businesses concentrated in one place, and they all come with a plethora of specialized subcategories and associated career paths."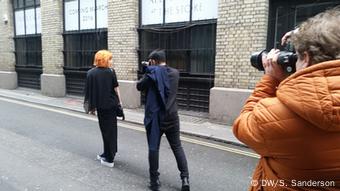 Even the streets of Soho turn into virtual catwalks during Fashion Week
But, Wanders goes on to say, that shouldn't discredit the quality of the fashion being put out in Germany today. According to her, there are "many young designers in Germany, whose work is of equal value to those in London."
"Germany enjoys a great reputation abroad for its craftsmanship, which ironically is still considered an archaic term in Germany. Whilst here in the UK, people regard craft skills as part of cultural heritage, and put a fresh, new spin on it that way," she says.
"Perhaps there's something that Berlin could learn and thus help promote German talent."