Earlier this month, newscasters on Georgia's three main TV channels, Rustavi 2, Imedi TV and the public broadcaster Channel 1, read out very similar reports on a controversial death in police custody. The incident has renewed suspicion that the government of President Mikheil Saakashvili maintains firm control of its media, despite its publicly declared commitments to democratic reform.
The news story was about how opposition politicians, linked to Saakashvili's main political rival, billionaire Bidzina Ivanishvili, had supposedly politicized the death of 46 year-old Solomon Kimeridze. Authorities maintain Kimeridze, a burglary suspect, tripped and fell three floors to his death while in police custody. The story focused on the opposition politicians' reactions, which journalists portrayed as inappropriate, and only briefly mentioned the fact that the politicians were questioning the suspicious circumstances of a man's death in police custody.
Each of the three TV stations used nearly identical video footage and news scripts.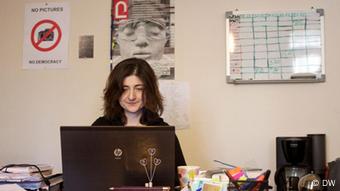 Journalist Nino Zuriashvili wasn't surprised by the similar broadcasts
According to the watchdog group Transparency International, such "coordinated news coverage is a strong indication for a lack of editorial independence of the country's major broadcasters." For independent journalists and ordinary citizens in Georgia, that's not surprising.
"This is not the first time. It happens a lot that the sequence of news stories and the topics of these stories are the same on different channels," said Nino Zuriashvili, an investigative journalist who worked for Rustavi 2 until it dropped its popular investigative program when Saakashvili was elected president in 2004.
Little trust in information
The private owners of Rustavi 2 and Imedi TV have close ties to the Saakashvili administration, while Channel 1 is state-owned. These three are the only nation-wide channels that provide news programs. They never broadcast news negative to the government. Instead the president's ribbon-cutting ceremonies and speeches are covered extensively.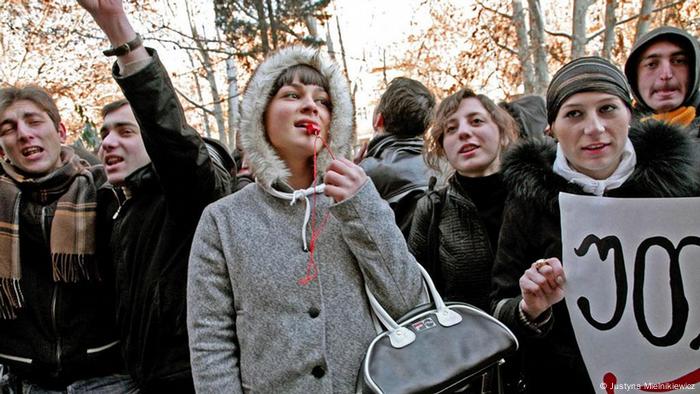 There have been protests calling for more balanced coverage by Georgia media
A 2011 survey by the Caucasus Research Resource Centers (CRRC) revealed that most people feel that these stations serve the interests of the government and that only 33 percent of the respondents trust Rustavi 2 and Imedi.
Despite Georgia's record of economic growth and democratic reforms, media freedom remains a stickling issue. The independent American NGO Freedom House, which regularly publishes press freedom indices, continues to grade Georgia's press status as "partly free," while Georgia's ranking in Reporters Without Borders' freedom index has gone from 66 in 2007 to 105 today.
Looking for the truth
The interior ministry has insisted it is absolutely impossible for the government to dictate news and that media freedom is guaranteed by law. Saakashvili has said it's ridiculous to complain about media freedom in his country, pointing to the existence of channels that he says hate the government.
Saakashvili was referring to two small TV stations broadcast locally in Tbilisi, Kavkasia TV and Maestro TV, which are considered opposition channels because they chiefly broadcast negative views of the government.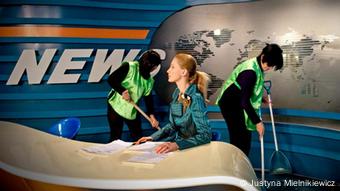 Kanal Pik is considered balanced but broadcasts in Russian and is not available across the country
"Unfortunately the situation is more polarized. They try to show their personal opinions as a fact. It's hard to find balanced reporters, free of political views," said Mamuka Andguladze, a media specialist at Transparency International Georgia.
Nearly 90 percent of Georgians rely on TV as their main source of information. The only station considered balanced is Kanal Pik, which is broadcasted by satellite in the Russian language to the North Caucasus and beyond. For the average Georgian, however, trying to get balanced coverage can be overwhelming.
"If it comes to politics, they are always defending their side, the president's side," said hairdresser Temur Tarverdiyev. "And you don't believe them anymore."
Sloppy journalism?
According to the CRRC survey, most respondents believe there is no freedom of speech in the news. Past actions by authorities and pro-government TV stations have done little to win people's trust in the media.
In 2007, riot police stormed Imedi TV during a live broadcast, destroyed much of its equipment and shut the station down. At the time the station was owned by Badri Paatarkatsiashvili, a billionaire who opposed the Saakashvili government. Paatarkatsiashvili died in 2008 and Imedi TV has since become a pro-government channel. In 2010, it was mired in scandal again when it aired a fake report that Russia had invaded Georgia that caused panic among viewers.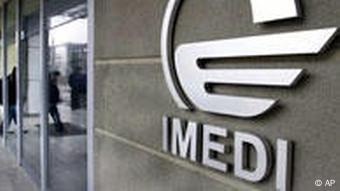 Imedi TV once shut down by the police but has since become pro-government
Akaki Gogichiashvili, the anchorman of a business news program for Rustavi 2, said it's easy for the government to control the message broadcast by the stations because of a lack of journalistic professionalism.
"It's about the laziness of the journalists. They do not double check the information or check for different sources. Thereby the government controls the whole content," Gogichiashvili said. "The press office calls up and tells you this is what's happening, this is the issue. This is why all major national channels have the same content at the same time at the same day with the same respondents talking about the same issues."
He also acknowledged that the national channels "are quite loyal to the government."
TV gets political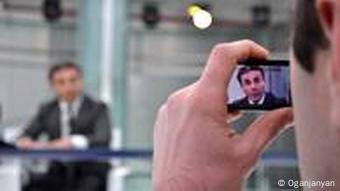 Opposition leader Ivanishvili looks set to get in on the action
In January, Saakashvili's rival, Ivanishvili, announced plans to buy the station TV Igrika. Since announcing his plans to enter politics and challenge Saakashvili, the formerly reclusive billionaire has become the target of a smear campaign on the major TV networks, which report on his alleged ties to Russia, but ignore stories of his supporters being harassed by the authorities.
With crucial parliamentary elections months away and a presidential contest next year, Georgian TV could become a heated political arena. That may do little, however, to convince average Georgians that they can trust the news.
Author: Paul Rimple, Tbilisi, Georgia
Editor: Holly Fox