European Union budget commissioner Dalia Grybauskaite, who ran as an independent candidate, won 69 percent of the vote. She came in well ahead of her nearest rival, Social Democrat Algirdas Butkevicius, who obtained just 11.87 percent. The five other candidates lagged even farther behind.
Official results showed just over 51 percent of the country's 2.7 million registered voters turned out, which according to Lithuanian law, was just enough for Grybauskaite to avoid a runoff ballot.
"I congratulate the Lithuanian people for their choice," the 53-year-old told a cheering crowd at her election quarters, before adding: "The taste of victory is the burden of responsibility."
Grybauskaite takes office at a time when Lithuania is struggling to cope with the global economic downturn. Unemployment stands at 15.5 percent, which is the European Union's third highest, while overall salaries are predicted to fall by 12.3 percent this year.
Last week, the country's central bank more than tripled its already doom-laden forecast, saying the economy was likely to shrink by 15.6 percent this year.
With Lithuania no longer enjoying the reputation of a fast-growing economic "tiger" as it had after joining the European Union in 2004 and up until 2007, Grybauskaite has committed herself to stabilizing the country's financial status.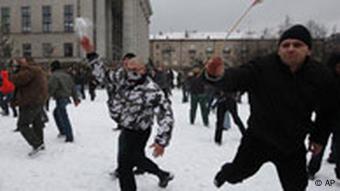 Rioters in Lithuania showed their anger over unpopular reforms
"The first challenge is the economic crisis…I think that together we will be able to emerge from these times of hardships much better, much more direct and much richer," she said.
She has pledged to provide tax breaks for small and medium-sized businesses, stimulate exports and absorb EU aid faster.
The president-elect, who has a martial arts black belt, has also vowed to address allegations of corruption within the current government.
"I believe in transparency and I will demand that quality from everyone. I don't appreciate liars or late-comers," Grybauskaite said.
Support from incumbent government
Overall, Grybauskaite's victory has been warmly welcomed in Lithuania by both voters and politicians alike.
"We have a good president and I am really happy with what we are trying to achieve. I am happy that she is coming with a very clear message of change, which is needed very much for Lithuania," Prime Minister Andrius Kubilius said.
His Conservative party colleague, Vytautas Landsbergis said Grybauskaite would be "energetic, positive and determined to act".
Ahead of the election, Grybauskaite won the backing of the ruling Conservatives, who did not put up a candidate.
Grybauskaite will officially take over the reigns from outgoing president Valdas Adamkus in July. The 82-year-old Adamkus, who is also non-partisan, will retire after serving two five-year terms, which is the maximum allowed under the Lithuanian constitution.
cg/dpa/Reuters/AFP
Editor: Trinity Hartman