Lithuanians dissatisfied with a sluggish economy and exodus of people voted for change in a second round of parliamentary elections on Sunday, making a small centrist agrarian party the biggest in parliament.
The Peasant and Green's Union (LGPU) won 54 seats in the 141-member Seimas, the country's unicameral parliament, according to results published by the Lithuanian election commission. The conservative Homeland Union secured 30 seats, while the ruling Social Democrats won just 17 seats. The remaining seats were split between a number of smaller parties.
In play in Sunday's second round vote were 68 seats. A first round of voting on October 9 delivered 20 seats to the Homeland Union, 19 seats to LGPU and 13 seats to the ruling Social Democrats.
Led by 46-year-old millionaire farmer Ramunas Karbauskis (above photo, left), the LGPU rode to victory on promises of creating a government of technocrats to improve the economy and stop the outflow of citizens to other countries in Europe.
The results are a major blow to the Social Democrats, who have become increasingly unpopular due to corruption and their role in adopting a new labor code that makes it easier to hire and fire employees.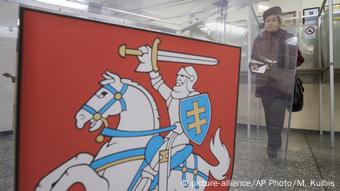 Voters were concerned about the economy, corruption and rising prices
Coalition talks
The election results mean LGPU will be tasked with forming the next government, although it was unclear with which parties it would seek to form a coalition.
"We are not ruling out any possibilities, even a broad coalition if we agree on the major challenge: how to stop citizens fleeing Lithuania," Karbauskis, the party's chairman, told reporters.
"I don't know an area where the current government policy does not need to be changed," Karbauskis said. "Except in foreign policy, where we need to have a continuation," he added, referring to Lithuania's EU and NATO membership.
Karbauskis has ruled out becoming prime minister. That position is slated for Saulius Skvernelis (above photo, right), a former national police chief popular for fighting corruption.
"We will forge a rational coalition government and we'll chose people who want to bring about changes," Skvernelis said on national television as the results came in.
He said the party would reach out to Homeland Union and the Social Democrats of outgoing Prime Minister Algirdas Butkevcius for coalition talks.
"We'll bring transparent and responsible policies," he said.
Voters concerned over economy
While possible Russian aggression in the Baltics has been a top NATO concern, the main issue in the election was the economy and corruption.
Since Lithuania joined the EU in 2004, the population has dropped to 2.9 million from 3.3 million as people leave the country to work in Western Europe.
The average wage in Lithuania is a little over 600 euros ($670) per month after tax, one of the lowest levels among EU members. Voters were also unhappy over the sharp increase in prices since Lithuania adopted the euro at the beginning of 2015, as pensions and wages remained stagnant.
cw/cmk (AFP, Reuters)