Portugal's capital Lisbon has placed hope for economic recovery on its nascent tech scene - and the efforts appear to be paying off.
The EU crowned Lisbon "the most entrepreneurial region in Europe for 2015," and investors from Germany, the United Kingdom, and elsewhere are flocking to the city to capitalize on low rents and affordable IT talent.
Some are even calling Lisbon "the new Berlin." But can the Iberian port city dethrone Germany's capital as Europe's new information technology hub?
Sunny Lisbon
Pedro Rocha Vieira of the Lisbon Challenge, a venture capital accelerator event that seeks to attract young companies from around the world to Lisbon, says low costs are key to the city's growing startup scene.
"You can hire top talent for affordable prices," Vieira says. "A developer will cost you not much more than 2,000 euros [$2,350] a month - which compared to the US or Berlin or the UK, is really competitive."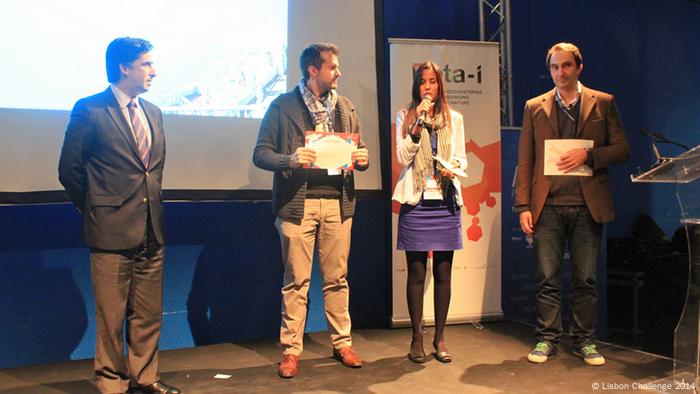 The Lisbon Challenge was just one of several entrepreneurial technology events held there recently
Vieira says 83 percent of the startups coming to his organization for grants are from outside of Portugal. He says besides low wages for highly talented workers, the other attractions are high quality of life, warm weather - and sunlight all year round.
That's what drew in Felix Petersen, a German venture capitalist from Berlin.
"I just spent two months here," Petersen says. "When I posted on Facebook that I was going to spend two months here, I got comments like 'It's the new Berlin' and 'go here and go there.'"
"I was really surprised how many people from Berlin have been here in the last couple of months," Petersen says.
Room to grow
Petersen said that because up to 400,000 people have left Lisbon over the last 20 years, there is a lot of room to grow a new tech business right in the city center.
"I lived here in the city center for the last two months, and most of the buildings are actually empty," Petersen notes.
Although the presence of shops and restaurants on the ground floor of many buildings make Baixa, at the very center of Lisbon, seem busy - it's all dark at night. "It all looks deserted," Petersen says.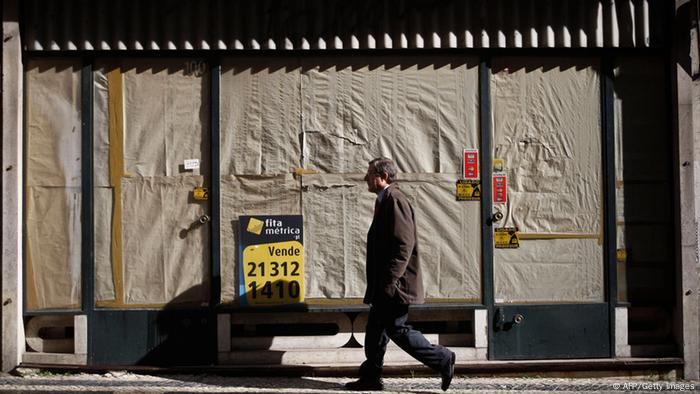 Empty storefronts could represent an investment opportunity
And he agrees with Pedro Vieira that high quality of life plus solid universities are a draw for investors from abroad.
Unemployment as an advantage
One such investor is Bhanita Mistry-Russell, who recently moved from London to get a grasp on the innovation and tech scene in Lisbon.
Mistry-Russell, who runs an innovation consulting business, is full of tech ideas. "So I am looking for talent, and looking to see what's happening in the industry here and looking to get involved."
Investors like Mistry-Russell say the financial crisis in Portugal has prevented new graduates from Portugal's technical universities from finding jobs at the usual large employers, like the national telecom energy utility. As a result, they are looking to make connections with investors like her.
New Berlin?
Then there's the diaspora effect - which has led young people like Bruno Antunes Luis, a Frenchman of Portuguese descent - to invest in the country his parents left behind.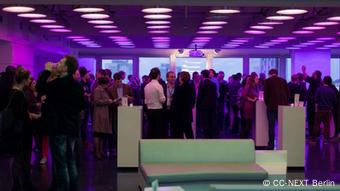 Berlin had for some time reigned as Europe's tech startup hub
Luis says he and other investors had been noticing the improvements all over Lisbon. "It happens often in London that I hear 'oh, you are doing business in Lisbon, it's like the Bangalore of Europe, you can do near-shoring,'" Luis says.
"But from my point of view, the environment here is closer to Warschauer Strasse in Berlin - and becoming the new Berlin with this lifestyle and culture," Luis concludes.
Apparently investors from around Europe - and the world - are trying to determine whether Lisbon's empty office buildings and warehouses can provide a sound setting for their own tech startup ideas.
It sounds a lot like Berlin's tech scene a decade ago - only with better weather. And experts say that if the boom continues, this will likely result will be an explosion in real estate prices - just as has happened in Berlin.