The oldest bookstore in the world is in the middle of Lisbon's chic Chiado neighborhood, right next to the Opera and the coffee shop "A Brasileira" (The Brazilian), famous for a bronze statue of Portugal's best-known modern poet, Fernando Pessoa.
"This bookstore has always been a meeting point for Lisbon's intellectuals and writers," said Catarina de Novais, sales director of Bertrand publishing house, which has its roots in the 282-year-old store.
Novais welcomed DW's reporter in front of recently restored wooden shelving in the entrance area, and guided him into its labyrinthine interior. The bookstore stretches far into the innards of the 18th century building. Its renovation will be completed in 2015, when a coffee shop and a space for cultural events will be inaugurated.
"Here in the Chiado neighborhood, people have always discussed and exchanged ideas," said Novais. "We want to revive that tradition and have the bookstore contribute to the city's discourses and debates."
Hoping for an economic revival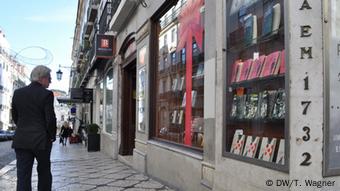 Bertrand bookstore can be found at Rua Garrett 73-75, Lisbon
Bertrand Group owns 53 bookstores in Portugal, a book club, and eight smaller publishers. The company was a subsidiary of giant German media corporation Bertelsmann until 2010, when Bertelsmann sold Bertrand to Porto Editora, Portugal's biggest publishing house.
Investing in the bookstore's renovation wasn't an easy decision for Bertrand. The book market in Portugal has been shrinking during the past few years. Almost a fifth of the country's bookstores have closed their doors since 2004.
Last year, sales declined by a further 4.6 percent. Government cutbacks associated with attempts to rein in Portugal's growing sovereign debt have diminished the purchasing power of the Portuguese middle class since they began to be imposed in 2011.
"Books are just not a priority for many families right now," said João Alvim, president of the Association of Portuguese Editors and Booksellers (APEL). However, Alvim said that some of the sector's problems are self-made. "In many European countries, the digital marketplace and its online sales of books and E-books are contributing to stronger growth. That's not the case in Portugal. We're behind in e-commerce," he explained.
A surprising barrier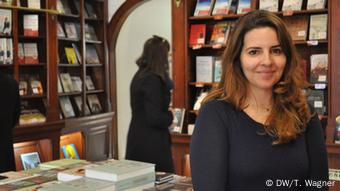 Catarine de Novais, Bertrand bookstore's sales manager
Still, online sales portals have been fostering exports of Portuguese books. Bertrand's sales manager Novais estimates that almost 12 percent of the consumers who buy books through the company's website don't live in Portugal.
Many Portuguese language books that publishers send overseas are delivered to Africa. Nearly half are ordered by customers in Angola, which recently has welcomed thousands of Portuguese migrants in search of work in the booming Southern African country.
Nevertheless, Portuguese publishing houses have not, as yet, profited much from their biggest potential market - Brazil, with its more than 200 million inhabitants, the lion's share of some 230 million consumers worldwide whose first language is Portuguese.
Portugal and its former colonies have failed to establish a standardized literary language which could be used simultaneously in Europe, Africa, and South America. As a result, the works of Portuguese novelists must be "translated" into the Brazilian version of literary Portuguese before they can be marketed in Brazil.
APEL president João Alvim doesn't believe Portuguese publishing houses can easily copy the success story of Portuguese exporters in other businesses. "We certainly won't be able to solve our problems by betting on overseas markets," he said.
In the last five years, exports as a share of Portugal's GDP rose from 28 to 41 percent.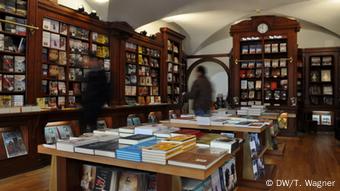 Fine habitat for bookworms
Recently, domestic private consumption has also shown signs of recovery, increasing by 2.7 percent year-on-year in the third quarter of 2014.
Catarina de Novais is confident Portuguese consumers will start buying more books. "I think we've passed the low point. Whether or not we can look back on 2014 as a good year now depends on Christmas sales," she said.
The managers of the flagship bookstore in the Chiado neighborhood have another reason to look forward with optimism - Lisbon is increasingly popular among travellers. In the first 10 months of this year, the number of overnight stays was nearly 15 percent higher than in 2013.
And the famous bookstore is especially popular among tourists. Inside the shop, a well-dressed elderly man stood in front of one of the shelves. Sunil from Sri Lanka was on his first trip to Lisbon. His daughter and his grand-daughter found the bookstore on the Internet. Sunil was having a look at English translations of some books by Nobel laureate José Saramago and the poet Fernando Pessoa.
"The selection of English-language books could be a little broader," said Sunil. "Still, we will definitely buy something here - as a souvenir," he added.