Every morning at around eight, 35-year-old Alfred Sirleaf stands in front of a wooden shack next to a busy road in Monrovia's city center. Regardless of how hot the temperatures are, his shirt is buttoned all the way up and his tie is tightly knotted. He believes that dressing properly is important for his job.
Sirleaf is the creator of Daily Talk - a newspaper measuring two by three meters. It consists of three huge slate boards, which hang from a hinge outside his shack. Just before rush hour, he writes the news of the day up on these boards.
The project has been running for 10 years now, and Sirleaf calls himself the Blackboard Blogger. He is without doubt the first of his kind in Africa, and perhaps the world.
Improvised journalism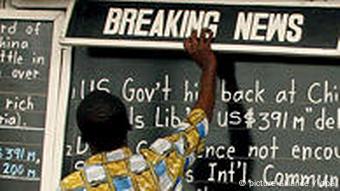 Daily Talk does not need electricity to survive
Sirleaf's news-gathering resources consist of a small portable radio and some 200 correspondents scattered around Liberia. The areas they report from are never reached by any conventional daily paper.
The correspondents report to him on topics ranging from rising gas prices to corruption. Sometimes they also send photos to his mobile phone, which he then prints out in the internet cafe next door and posts on the board next to his articles.
He was surprised at the disbelief that his news concept originally aroused in people. They would say to him, "How can it be, a newspaper in the street?" Sirleaf recalled.
"All of them thought this way," he added.
Satisfying an urgent need
Still struggling after 14 years of civil war, Liberia is a country of widespread poverty. Only a few of its roads are paved and generators are the only source of electricity.
"Most can't afford to buy a newspaper, can't afford to buy a generator, to get a television set, to go on the internet," said Sirleaf. "There is need for massive education."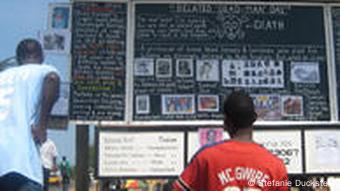 Everyone can learn something from Sirleaf's news items
Illiteracy is another barrier to communication in the country. According to UNICEF, less than half of Liberia's population can read and write. Keeping those people informed poses an extra challenge for Sirleaf, who aims to reach his readers with "informal education," using a combination of words, images and symbols.
"For example, if we are talking about the 'blue helmet' - the United Nations peace-keepers - you will see a blue helmet up there," explained Sirleaf.
Sirleaf is passionate about educating his fellow countrymen, as he believes that without knowledge people cannot help to steer the fate of their country, let alone be able to run it.
"If you start to take information to the people, educating them, opening their eyes to what's happening, somebody will not be able to fool them," said Sirleaf.
Driven by ideals, not money
Sirleaf's project is financed entirely through small donations from readers, who sometimes show their gratitude by giving him phone cards and free taxi rides. He also supplements his income by doing odd jobs, but often finds himself on the brink of poverty.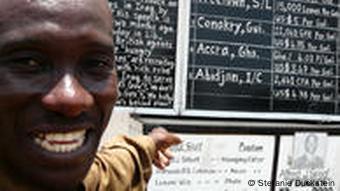 Sirleaf is determined to carry his dream into the future
His wife and two young daughters are dependent upon him, yet Sirleaf is not ready to give up on his mission despite the financial pressure. He dreams of one day owning an electronic version of Daily Talk - a truck with large screens mounted on the back, driving all over the country to deliver news to remote areas.
"I feel that there is some need to help the Liberian people - there is a need to spread the information out there," said Sirleaf. "So I'm not going to be discouraged."
Author: Stefanie Duckstein (ew)
Editor: Anke Rasper