His eyes convey a deep sense of curiosity; his handshake is firm. And Austrian author Martin Pollack is always happy when people are interested in his work. When questioned about the number of books he has translated or written, he merely says, "I'm a bad statistician." But the numbers are as easy as they are impressive: He's translated 30 and written six.
That is certainly enough to reap him this year's Leipzig Book Prize for European Understanding.
"Pollack is a zealot about precision without possessing the obessessiveness of a stickler," said writer Sibylle Lewitscharoff in her laudatory remarks. "He writes in a clear language understandable to anyone who can read easily."
Spotlight on the present
It is for his most recent book "Der Kaiser von Amerika" (The Emperor of America) that the former correspondent for German newsmagazine Der Spiegel has garnered the award. "Der Kaiser von Amerika" describes the mass exodus of Jews, Poles and Ukrainians from eastern Europe's Galicia region at the beginning of the 19th century.
The jury said they selected Pollack's book because of the way he chose to structure the events in a manner that sheds light on the present. In his writingl, the mass exodus from Galicia and Bukovina serves as a kind of prototype for today's mass migration around the world.
But Pollack's obsessive interest in writing about this historical region of eastern Europe wasn't abstractly motivated. "I come from a family of Nazi extremists," the author explained. "My father was a leader in the SS and Gestapo in Linz, and my grandfather and grandmother were ardent Nazis."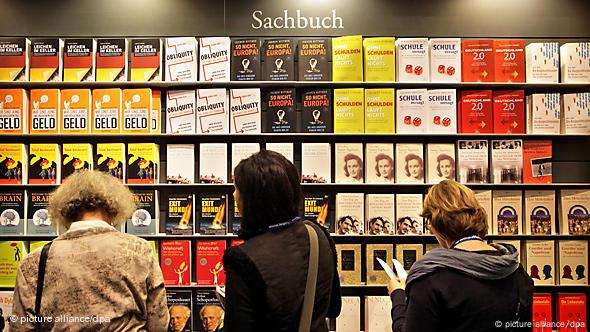 The Leipzig Book Fair runs through March 20
Bridging the gap
Pollack himself escaped indoctrination thanks to his mother, who sent him to a boarding school in the mountains. "There, I met the children of people who had been displaced by the war, and that's where I heard the first sounds of Slavic languages," he said.
He ended up completing a degree in Polish studies and broke off contact with his family. In 2004, he wrote a book about his father, the war criminal.
Meanwhile, Pollack lives with his wife in Austria's Burgenland region, in view of his beloved eastern Europe. With his son grown and gone, he has more space for books in his house. "I had a big library built here, which looks out onto my garden, the fields and fruit trees."
Looking at his hands, it's clear that he does not just hold a pen for a living, or type away at a keyboard. He has working hands, that touch the earth and get dirty. It's when he's gardening that he thinks about how he can contribute to invigorating Europe's lopsided memory, to paraphrase the Spanish writer Jorge Semprun.
"I'm just a small cog in the machine," he noted. "I try my best, but whether I actually achieve anything, I don't know."
Working the ground
What Pollack has achieved in his most recent book is the delicate dance of virtuosic writing that lies somewhere between essay and documentation. Like hardly any other writer, the jury for the Leipzig Book Fair Prize for European Understanding said Pollack was able to empathetically ascribe both names and dignity to the nameless victims of history through his precise research of historical events, without losing sight of the fates of individuals.
Pollack said he was pleased to receive the Leipzig prize, but more than anything, "I'm happy my books are so popular in Germany," he said. "I'm very moved that it's the Germans who want to honor me in this way.
"I think then, that it hasn't all been for naught," he added. "There's a reason for it all."
Author: Mirko Schwanitz / als (dpa, epd)
Editor: Kate Bowen