Last weekend the Museum of Fine Arts in Leipzig opened an exhibition called "Neo Rauch, Begleiter" ('Neo Rauch, Companion'), the 50-year-old painter's first major retrospective. The show, which offers a look at his works since 1993, is running in tandem with an exhibition at the Pinakothek der Moderne in Munich.
Director of the Leipzig museum, Hans Werner Schmidt, has known Rauch for the past 10 years. He attributes the painter's popularity in part to his traditionalist roots.
"I believe Neo Rauch is a champion for figurative painting. He disproves all the many statements that have been liturgically repeated since the 1950s, that painting is dead," Schmidt said.
Leipzig as modern art metropole
Rauch, who comes from Leipzig, and some of his contemporaries from the Leipzig Academy of Visual Arts have given the city a name in modern art circles, making it popular with collectors and dealers from around the world.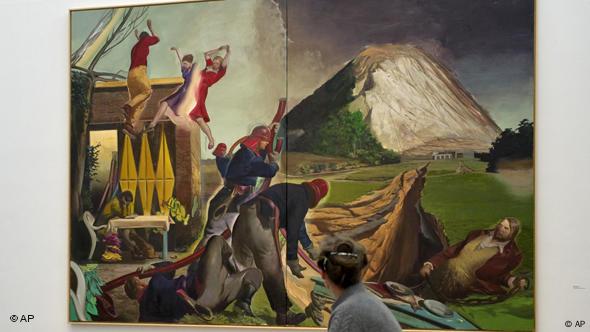 "Die Fuge, 2007" (the seam) by Neo Rauch
"His great quality is putting mystery and inscrutability back on the map, and rightly so," Schmidt said. "That's not because he obfuscates things but because he gives mysteriousness a communicative potency. His is a great, mythical theatre which turns aspects of the politics of the day into a collage in a type of stage-setting."
Rauch's paintings are immediately recognizable. They are often like menacing dream sequences, featuring respectably dressed characters that are lost in the world, or monsters, or sentient objects in unusual, surreally dismal landscapes.
Paintings that speak for themselves
The paintings borrow from the Old Masters and from Social Realist painting, and incorporate snatches from comic books and old fables. Rauch says his rich images are not meant to explain anything in particular, but to lead the viewer to a "grand moment of amazement."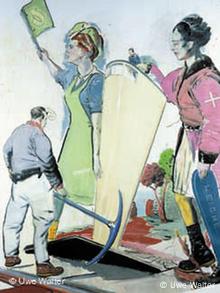 "Weiche" by Neo Rauch
"I prefer viewers who don't do headstands in front of my pictures to try to figure them out, but who accept them for what they should foremost be, which in my opinion is a densely woven sensual concentration of structures that move the senses," Rauch said. "And if you look at them for a longer time, maybe you will find the thread of a story in the picture."
Bernhard Heisig and Werner Tuebke were among the first artists to be considered part of the "Leipzig School" of painters. Like Rauch, the pair went to the Leipzig Academy of Visual Arts, and followed the path from student to assistant to professor.
Evolution to darkness
Rauch's works were abstract-expressionist at first, but then in the early 1990s he began to concentrate on large paintings. Around 1996, he developed the style of surreal collage that made him famous. In the beginning, he reacted to the bright, loud colors of the Western world by painting in the muted, washed out colors associated with Eastern Europe. In later years he painted in earth tones that were even darker and more menacing.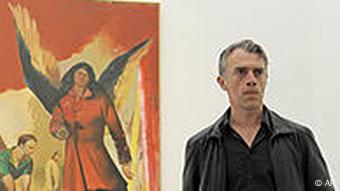 Neo Rauch's "Morgenrot" (Red Sunrise)
"Like other people, I keep the things that touch and torture me at arm's length for as long as possible," Rauch said. "That means I can start to deal with and work with things after they have lost their first shocking impulse. Or rather, that is when they come to me, when they are suddenly on the canvas without my having planned it."
The world that Rauch portrays is one of deep loneliness and ubiquitous threat. As the Leipzig exhibition shows, his work features a number of recurring themes and motifs. Sixty paintings, most of them large-format loans from private collections, are on display in Munich.
Author: Silke Bartlick (jen)
Editor: Tamsin Walker