Legendary manga artist Jiro Taniguchi passed away on Saturday in Tokyo at age 69 after struggling with a serious illness for years, his French publisher Casterman said on its website.
Taniguchi was known far beyond his native Japan for his quiet, introspective comics told in densely detailed drawings.
His contemplative graphic novels often showed normal people in their daily lives. His 1990 work "The Walking Man" exemplifies this approach, telling the story of a young man who enjoys taking walks around his suburban neighborhood. The comic captures quiet moments rich in intricately constructed landscapes with very little dialogue, never revealing the man's name.
Critics have praised Taniguchi's gentle subject matter and the way he lets stories develop slowly - a departure from a majority of mainstream manga, which often tries to titillate its readers with big dramatic moments, sex and violence.
"My mangas are not as easy to digest as many other current series," the artist told German newspaper "Tagesspiegel" three years ago. "The younger authors primarily want to create mainstream mangas that sell. They want to become well-known, to create bestsellers."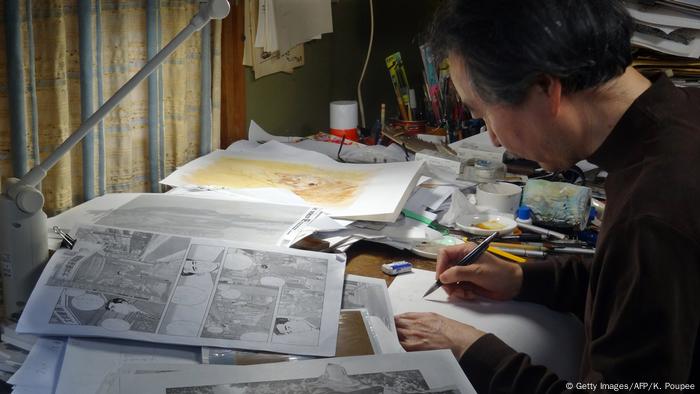 Jiro Taniguchi drawing in his Tokyo studio in 2012
Shifting gears after drawing genre mangas
Taniguchi himself started out in the 1970s and 1980s illustrating crime, science fiction and Wild West stories such as "City Without Defense" and "The Wind of the West is White." But in the late 1980s, he shifted toward what is now known as his signature style.
"A Distant Neighbourhood," a 400-page graphic novel first published in 1998, is widely regarded as Taniguchi's key masterpiece. It tells the story of a businessman who travels back to his childhood. Among many accolades, it received the comic book of the year award in Germany.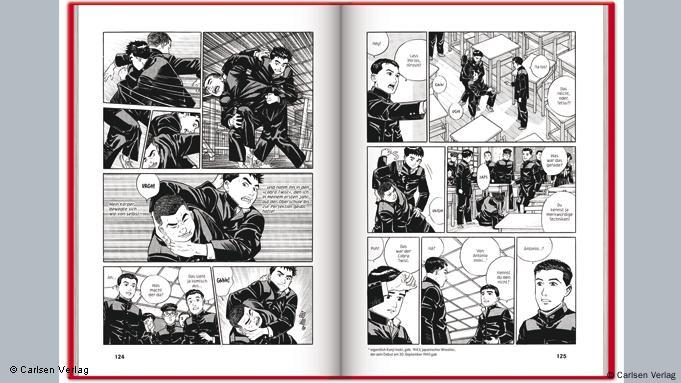 An excerpt from Taniguchi's "A Distant Neighborhood"
While Taniguchi did achieve success in his native Japan in spite of his unconventional style, he was also well-known among comic book aficionados worldwide, particularly in France and Belgium. In 2011, the French government made Taniguchi a "Knight of the Order of Arts and Letters," one of the country's most prestigious prizes.
Taniguchi's characters lack the exaggerated features that predominate in many mangas. Though his comics are considered to belong to the Japanese genre, his books also clearly show the influence of Western comics, in particular more realistically drawn Franco-Belgian works.
Autodidactic artist
Taniguchi was an autodidact, teaching himself how to draw as a teen. He drew all of his work by hand, even after most of his colleagues started working digitally. "I do not use a computer because I don't know how; I don't have the skill", he told AFP news agency in 2012.
While Taniguchi wrote many of his stories himself, he also illustrated stories in collaboration with other authors. "The Times of Botchan," a five-part series released between 1987 and 1996, was written by Natsuo Sekikawa and illustrated by Taniguchi. The story about intellectual life in Japan at the end of the 19th century marked a departure for Taniguchi from genre fare to more contemplative works.
The publisher Casterman described Taniguchi as an "extraordinarily kind and gentle" person.
"The humanism that imbued all his work is familiar to his readers, but the man himself was much less well-known, naturally reserved in character and more inclined to let his work speak on his behalf," it said.
mb/tj (AFP, dpa)