Wagenknecht was sitting in the front row, listening to party chief Bernd Riexinger's speech, when a man made his way towards her and shoved the soft, brown and creamy pie straight into her face.
Most of the crumbs were still stuck to her cheeks, nose and forehead as Wagenknecht, shielded by her colleagues, left the hall through a side exit. Once outside, the Bundestag member pulled herself together, wiped off the sweet remains and went back to her hotel.
A spokeswoman for the Left Party, the successor party to the East German communists, said the party had registered a complaint against a man and a woman, who apparently had "leftist" leanings. They had been removed from the meeting's premises in the meantime.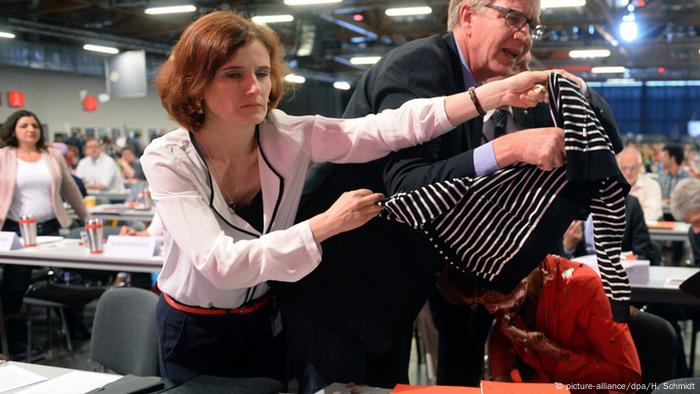 "Don't look!" Wagenknecht's colleagues shield her cake-stained face from curious onlookers
Antifascists take responsibility
Members of the "antifascist" group "Torte für Menschenfeinde" or "Cake for Misanthropists" took responsibility for the attack. They accused Wagenknecht of translating public anger into political demands and of assuming an anti-refugee stance, similar to that of the populist Alternative for Germany (AfD).
The politician has been criticized for saying she didn't think that all refugees could come to Germany and for anti-migrant comments after migrants sexually harassed and robbed hundreds of women in Cologne on New Year's Eve.
The "antifascist" group staged a similar attack on the AfD's Beatrix von Storch in February, using a man dressed up as a clown to throw a pie at the politician.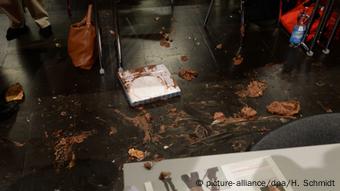 Cake remains on the floor serve as a creamy reminder of Saturday's incident
"Die Linke" chief Riexinger and his deputy Dietmar Barsch condemned the assault, saying violence had no place in debate. "That was not an attack on Sahra, it was an attack on us all," Left Party member Katja Kipping told dpa news agency. Wagenknecht was against racism, discrimination and the government's proposed changes in the asylum law, Kipping added.
The pie attack "is neither leftist, nor is it antifascist, it is anti-social, it is sneaky, it is dumb," the party's deputy Dietmar Bartsch said in his concluding remarks on Saturday's incident.
mg/jm (dpa, AFP)