More than 19,000 leaked emails sent by US Democratic party officials - posted by WikiLeaks on its document disclosure website - show an acrimonious split between the Democratic National Committee (DNC) and one-time Clinton rival Bernie Sanders.
At least two messages reportedly suggested efforts to present Sanders as an atheist, thus undermining him in highly-religious states.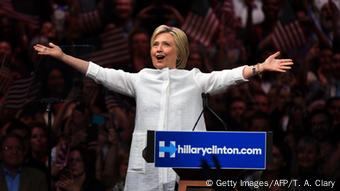 The leaked documents will do nothing to increase trust among voters for Clinton
On May 5, a DNC employee asked colleagues to "get someone to ask his belief" in God and suggested that it could make a difference in Kentucky and West Virginia. Sanders' name is not mentioned in the note. "This could make several points difference with my peeps. My Southern Baptist peeps would draw a big difference between a Jew and an atheist," DNC chief financial officer Brad Marshall wrote.
Another email seems to indicate an attorney advising the DNC how to defend Clinton against an accusation by the Sanders campaign of not living up to a joint fundraising agreement.
The messages - dating from January 2015 to May 2016 - were leaked from the accounts of seven DNC officials, according to WikiLeaks.
WikiLeaks didn't disclose the identity of those who provided the private material, although reports suggest Russian hackers penetrated DNC computers in June.
Polls too close to call
Recent polls have given Clinton an edge over Republican candidate Donald Trump, and many Democrats say they are behind Clinton, some grudgingly after a number of Sanders' more left-leaning pledges were bartered into the party's manifesto earlier this month.
The leaked documents will do nothing to increase trust among voters over Clinton's attitudes towards her allies. Trump has already pounced on the news, calling it evidence of Clinton's unreliability and hypocrisy.
"Leaked emails of DNC show plans to destroy Bernie Sanders. Mock his heritage and much more. Online from Wikileakes [sic], really vicious. RIGGED," Trump tweeted on Saturday.
Sanders' team unhappy
Sanders's campaign manager Jeff Weaver, meanwhile, demanded answers in an interview with ABC News.
"Someone does have to be held accountable," said Weaver. The Democratic Party seemed to have "its fingers on the scale" for Clinton, Weaver added. "We have an electoral process. The DNC, by its charter, is required to be neutral among the candidates. Clearly it was not."
Clinton finally won enough delegates to secure the nomination in early June, but Sanders did not concede defeat and endorse her until July 12 in the Democratic primaries.
jbh/cmk (AFP, AP)