More than 88 years ago, the Le Bourget airfield north of Paris went down in history. On May 21, 1927, Charles Lindbergh landed his plane there after his triumphant first one-man, non-stop flight across the North Atlantic.
Since 1951, Le Bourget has been the venue of an international aviation fair held every other year, the biggest and most important of its kind worldwide. And this year it's back in full swing.
Trade visitors are the first to have come to the fair as they flock to the compound to see at least some of the products and services shown by well over 2,200 exhibitors from 47 nations.
By next weekend, the event will be open to the general public. Aviation buffs will once again take an interest in special aircraft shows involving military, passenger and cargo planes. Last year, some 176 private visitors came to Le Bourget for the event.
Important market place
Especially for producers of passenger planes, Le Bourget is an important market place where orders can be presented in the limelight of media attention. Airbus, unlike Boeing, in particular has been known to deliberately postpone the announcements of delivery contracts so as to present them more effectively at the fair near Paris.
But Airbus CEO Fabrice Bregier has been fueling expectations in the run-up to Le Bourget. "It'll be a good fair, with hundreds of orders coming our way."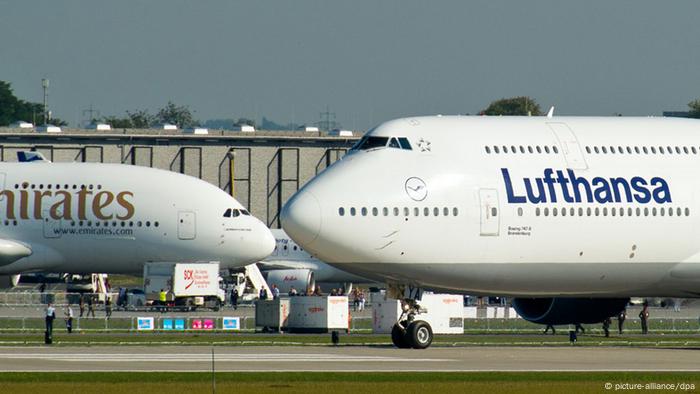 Rivalry between Airbus and Boeing is coming out in the open once more at Le Bourget
Visitors will be able to catch a glimpse of the A350XWB which only started being used on regular routes at the beginning of the year. They can also take a look at the A380 for which Airbus keeps looking for new clients.
But executives have hinted some airlines may now consider buying A380s. However, Emirates Airlines, which had previously shown an interest in the A380 with its long and new aero engines, hasn't committed to anything.
"At Paris, no orders should be expected from us," Emirates Airlines President Sir Tim Clark said a couple of days ago, adding that Airbus wasn't willing to make necessary investments to improve the A380 unless more clients voiced an interest in ordering such planes.
Problematic aircraft
Airbus is glad that its military transporter A400M is now sure to be shown in the Le Bourget flight program. A new plane of that model had crashed in May in Seville, grounding all A400Ms for a long period of investigations and inspections.
"We put complete faith in the A400M and are glad we can show the plane in flight during the fair's shows as scheduled as we want to share our pride in the plane with all aviation lovers," said the head of Airbus' military division, Fernando Alonso.
There will even be a world premiere at Le Bourget. Canada's Bombardier is slated to show its C-series regional jets. It comes in two sizes - one for 110 and another for 130 passengers - and challenged rival companies Airbus and Boeing. The only snag has been a lack of potential buyers and various approval delays.
But now it's become clear that Swiss will be getting such planes by mid-2016. Air Baltic in Riga will be another customer.
"Paris is a milestone for us," said Bombardier chief Alain Bellemare, who will seek to secure orders for 57 more planes before starting route service operations, with 243 units in the firm's order books right now.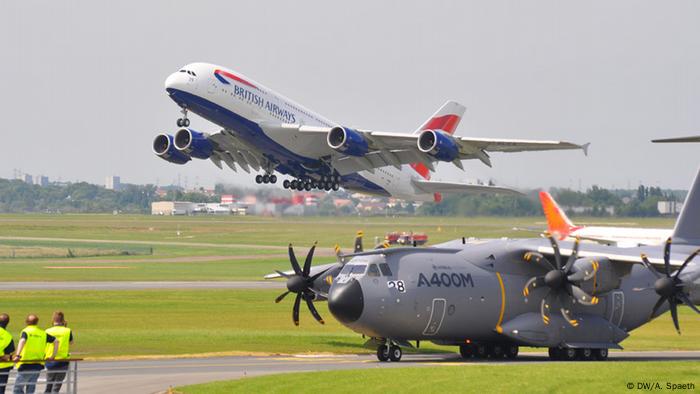 A380 sales look unlikely to take off at the Paris fair
Another novelty comes from Ukraine with a twin-engine AN-178 military transporter. The Kyiv-based Antonov production facility wants to sell at least 200 such planes. That would be more than the 50 AN158s it sold and from which the military version was developed.
Prominent guests
US Transportation Secretary Anthony Foxx has pledged to open the US pavilion at the fair personally, with 320 US exhibitors at the show. Putting in an appearance is important for policymakers, researchers and suppliers alike.
Germany too has a strong base at Le Bourget, including representatives from 20 companies and institutions from the larger Hamburg area. The port city's mayor, Olaf Scholz, will be there as well to sign among other things cooperation agreements with Canada's Montreal region and Japan's Nagoya aviation hub.