It was the summer of 1973 when Franco's political police arrested political dissident Luis Suarez-Carreno. He knew what was in store for him: Three days of torment, perpetrated by Antonio Gonzalez Pacheco, an infamous torturer in the Francisco Franco era, also known as Billy the Kid. Now, Suarez-Carreno has presented the first lawsuit in Spain against Gonzalez Pacheco and two other interrogators of the dictatorship's social-political brigade.
Read more: Spain's parliament calls for Franco's remains to be moved
"This is a small event, but it means a lot, because we're defying a regime that suggests we should just forget the Franco-era crimes. This goes beyond justice. We're trying to clean up this imperfect democracy. Today, our country can start to regain its dignity," said Luis Suarez-Carreno in a press release following the filing of his lawsuit.
Routine torture
"I was arrested for three days, during which they beat me up violently. They almost didn't let me sleep. They would take me constantly up and down from the cell to the offices, making me exhausted. I became disoriented. I didn't know if it was day or night. It was a hot summer week, but they made me wear winter clothes and wouldn't give me water. Then they beat me again. Then upstairs, then down again… three days like that," the claimant explained.
The torture was not only physical. "They would try to wear us down, constantly looking for your weak spot," Suarez-Carreno told DW. For him, it was his wife's arrest that really worried him. "She was very young, and I was afraid of what they may do to her." In the end, he says, the only way to get out of the cell was to sign the confession they had forged for him.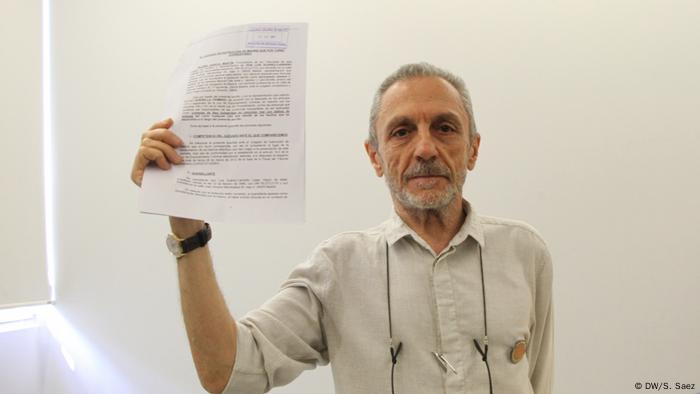 Luis Suarez-Carreno holds the first lawsuit against a Francoist torturer ever filed in Spain
"We all knew this was routine if the social-political brigade arrested you. Their cruelty often depended on whether they believed you had any useful information, but at other times they were just cruel," Suarez recalled.
Jacinto Lara, Suarez's lawyer, told DW that the facts have not been challenged. "It's an acknowledged fact that Antonio Gonzalez Pacheco exercised torture in a systematic way against all those who were political dissidents against a dictatorship. Nobody denies those facts, but in the past, the Spanish state questioned the legal status of the crimes, and blocked previous attempts to bring the offenders to justice."
Amnesty and Impunity
Spain recently commemorated four decades of democracy. The first democratic elections after the end of the Franco era were held in 1977. But for Suarez and his legal team, the structures of the old regime still remain, and are behind "an active, political boycott" of any attempt to investigate what happened under the dictator's iron fist.
Read more: Madrid tries to tear down a dictator's memory
So far, the Spanish courts have not investigated the alleged crimes committed under the Franco dictatorship. In 2008, Judge Baltasar Garzon initiated proceedings against the regime, but he faced stern opposition from his more conservative colleagues. The general attorney at the time said that Garzon's attempt was a "legal nonsense," as all possible crimes would have been pardoned by the 1977 Amnesty Act. Judge Garzon was eventually accused of perversion of justice.
According to Lara, however, the Amnesty Act should not be a hurdle. "We are talking about crimes against humanity, which are not subject to amnesty. These are abhorrent crimes, an offense to the very core of human rights." To prove that context, the lawsuit includes a report signed by four expert historians.
This position has been supported by the United Nations' special rapporteur for human rights, Pablo de Greiff, who in 2014 said that the Act is incompatible "with the international obligations taken on by Spain, including [...] the International Covenant on Civil and Political Rights."
After Garzon's dismissal, individual victims and associations resorted to international justice proceedings. A collective lawsuit was filed in Buenos Aires against a number of other Franco-era torturers and high-ranking officers, including Gonzalez Pacheco. In 2010, an Argentinian judge, Maria Servini, demanded their extradition.
The move was denied by the Spanish National Court, alleging that the crimes had not been committed in a context of crimes against humanity. Suarez-Carreno's lawyers, however, criticized Spain's lack of action after denying extradition. "According to international law, if a state denies extradition for an international crime, it has the obligation to prosecute the defendants," said Lara.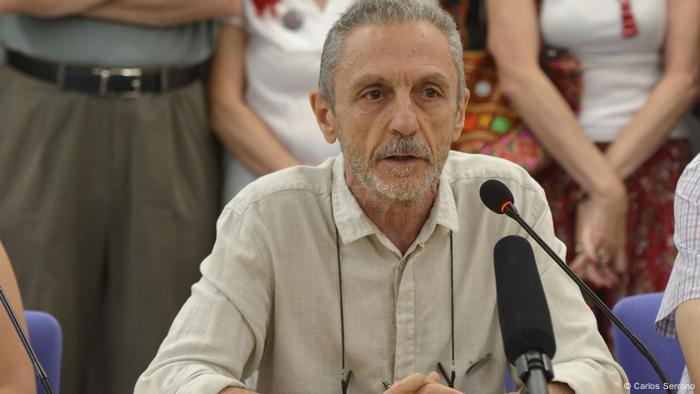 "Justice will bring us truth," says Suarez-Carreno
Optimism
For Suarez-Carreno, the lawsuit goes beyond the individual crimes. Impunity, he said, is much more than leaving the victims out in the cold. It is about rewriting history. He's afraid that once the last witness is dead, a new, whitewashed version of Franco-era events will replace what really happened.
Despite that, he remains optimistic. "After Franco died, left-wing parties and movements didn't push for justice as far as they should have. Spain was under pressure, afraid of returning to a dictatorship, and compromises were made. Nowadays that's not the case. Young people are not afraid anymore, and they don't buy that they have to forget and ignore justice. And justice is key to establish what really happened and avoid having history rewritten. Sooner or later, just like in Nuremberg [the Nuremberg trials against the Nazi leadership - the ed.], justice will bring us truth."