What began as a normal press conference at this past May's Cannes Film Festival ended in scandal. Danish film director Lars von Trier expressed sympathy for Hitler when the Nazi-era dictator was stuck in his bunker. Von Trier even called himself a Nazi.
It was meant as a macabre joke, but film festival executives wanted no part of it. Von Trier was branded persona non grata. What got lost in the whole drama was that his latest film "Melancholia" is magnificent.
The director has been influential in European auteur film for three decades. In early September, when he sat down on stage during a retrospective of his complete works, Berlin's Babylon Cinema was packed to the rafters. Expectations for the enfant terrible were great, but von Trier wouldn't let it faze him.
In a new light
Born in Copenhagen in 1956, von Trier got his start in film at an early age when his mother gave him a Super 8 film camera as a present. He filmed everything under the sun, but largely because he was fascinated with the technology.
Michael and Justine in "Melancholia"
His films could be interpreted as von Trier's processing his own experiences. There was a communist bent to his family, and the relationship with his mother was difficult. He found out his Jewish father was not his biological one when his mother was on her deathbed.
His father came from a German family of musicians, so perhaps that explains the filmmaker's interest in composer Richard Wagner, German history and his penchant for provoking people.
"I'm from a period when provocation was seen as a fundamentally appealing thing in Denmark because it gets people thinking," the director noted. "You start seeing things in a new way. Maybe you'll get angry, maybe you'll feel great. But some process gets going."
Most of his films are dramas - many of them quite disturbing. His last movie "Antichrist" features a man and woman who seclude themselves in a house in the woods following the death of their son, only to fall to pieces in an atmosphere of agony, aggression, sex and self-mutilation.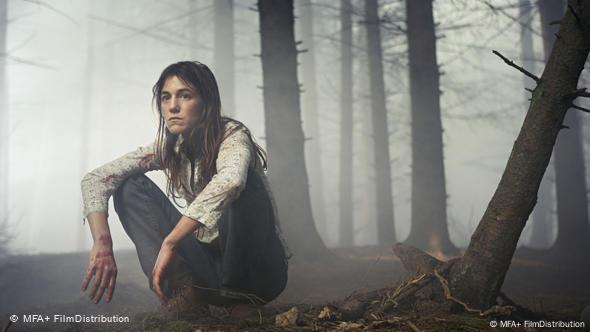 Charlotte Gainsbourg in "Antichrist"
This radical approach can almost certainly be attributed to the fact that von Trier has suffered from depression since childhood.
Writing his own story
It's no wonder, then, that in his latest work "Melancholia" - out in German theaters this October - protagonist Justine (convincingly played by Kirsten Dunst) winds up in a similar state. It's downhill right from the start.
Justine and her fiance are driving in a stretch limousine to Justine's sister's mansion, where they are due to celebrate an extravagant wedding. But the car gets stuck in a narrow street. Arriving hours late, things continue to go downhill for the bride and groom.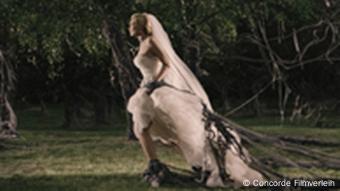 One of Von Trier's famously haunting images - from 'Melancholia'
Meanwhile, Planet Melancholia accelerates towards Earth, its collision signaling the end of the world as we know it. And all the while, Justine does all she can to ensure her marriage ends before it even gets off the ground.
Director von Trier admits Justine is like his alter ego in the way she sinks into depression.
"I can only write about myself," he explained. "When Justine gets depressed, it's really a description of my own state."
He studied film at the University of Copenhagen from 1976 to 1982. It was a place "where everything was forbidden" - even the "von" he added to his name. Since then, von Trier has run the gamut of weighty topics in his career.
National Socialism, 20th-century European history, God, religion, the downfall of the Western world - they're all there. You can sense the influence of filmmakers Ingmar Bergman and Carl Theodor Dreyer.
The Dogme Manifesto
One of the most revolutionary things he's done is to introduce the "Dogme 95 Manifesto" with Thomas Vinterberg in Cannes in 1995.
They set out rules to streamline filmmaking - or rather, pare it down to its basic tenets of story, acting and themes. The style ruled out the use of special effects and equipment - no film score, no tripod for the camera, no color filters.
"The Idiots" was von Trier's first film to stem from Dogme - a story of people living on the fringes of society and likewise a reflection of the director's entire oeuvre.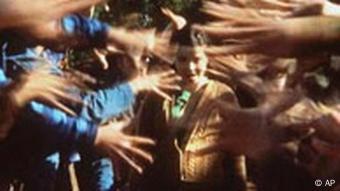 Björk grabbed a 'best actress' award for 'Dancer in the Dark'
Dogme made its mark on European film for a decade before Lars von Trier said it was obsolete. During those 10 years, 39 films from various countries were created based on the Dogme principles.
Other Lars von Trier films have impressed audiences with their depth - award-winners "Breaking the Waves" and "Dancer in the Dark" (with singer Björk), for instance. Both tell stories in which the female protagonists are tragic figures "whose love doesn't depend on what fate throws at them or how people treat them," the director pointed out.
A beautiful end to earth
But his female characters are not only victims. "Dogville" from 2003 kicked off von Trier's trilogy about the United States and depicts Nicole Kidman as the daughter of a Mafioso trying to break out of a cycle of violence.
Ultimately exploited and humiliated, she takes revenge. Here, too, the director chose a minimalistic approach - having his protagonists act on stage, while makeshift props of streets and buildings formed the backdrop.
The latest film "Melancholia" is striking by contrast and a feast for the eyes. While Justine's sister Claire panics about the end of the world, Justine becomes calm and feels a sense of liberation. The music of Richard Wagner lends the work a hauntingly romantic twinge.
Author: Bernd Sobolla / als
Editor: Zulfikar Abbany