After protracted negotiations and with the situation in the Darfur region of Sudan deteriorating, the international community finally agreed to set up a joint peace operation. A year and half ago, the United Nations and the African Union deployed troops to Darfur as part of the UNAMID mission to establish peace and protect the people in the troubled province in western Sudan. According to UN estimates, the conflict there has claimed more than 300,000 lives since 2003.
To carry out its operation, UNAMID requested 24 helicopters to support its 17,000 troops. But a year and a half after the launch of the mission, UNAMID is still without choppers. Since UNAMID itself doesn't possess airlift capabilities, it is dependent on contributions from individual countries. So far, no country has provided any helicopters to the Darfur mission.
Susana Malcorra, the head of the Department of Field Support at the UN in New York, thinks the reason why Darfur hasn't received any choppers is because they have been deployed to other international hotspots. "It seems like the need of helicopters has become a big ticket item in Afghanistan and Iraq", she says and adds that other UN missions in Africa are also lacking airlift capabilities. "It's not only UNAMID that is short of helicopters. We are also behind in Chad and now we have a question for additional helicopters in the Democratic Republic of Congo."
Other priorities
Lauren Gelfand, Africa editor with Jane's Defence Weekly in London, argues that there actually are plenty of choppers available around the world, but Africa is simply not a high priority for the UN member states that own them. "I think that there is a misconception about helicopters", Gelfand says. "They are assets of the individual countries. There is not a big pool of helicopters, like a lending library, where you can just get and keep them then for a couple of months for your operation."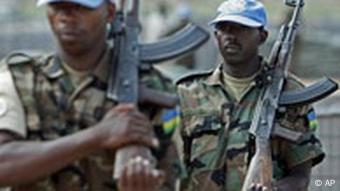 Choppers could benefit UNAMID soldiers greatly
Malcorra and Gelfand both do agree that choppers would make an important contribution, especially in a vast area like Darfur. "The helicopters," says Malcorra, "give us the possibility to move our forces at a speed that otherwise is not possible. This is critical for the mandate UNAMID has." What's more, says Gelfand: "A helicopter flies low enough that you can have a look outside the window and see what's really going on. In an area as remote, as large and as difficult as Darfur, that's very useful."
Help from Ethiopia
While it is clear that helicopters would greatly enhance the mission in Darfur, it's uncertain whether countries will finally come forward and supply them to UNAMID. Just how cumbersome it is to get choppers to Darfur is highlighted by the fact that then US-Senator Joe Biden introduced a resolution to the US Senate urging the international community to dispatch helicopters to Darfur. Biden's bill had 33 co-sponsors and was passed unanimously. That was back in February of 2008. Since then Joe Biden has become US vice president, but neither the United States nor any other country have sent helicopters to Darfur.
Ethiopia so far is the only country that has vowed to provide helicopters. It pledged to sent five choppers to Darfur in October. "It will make a difference," says Susana Malcorra. "But we need more."
Author: Patrick Vanhulle
Editor: Andreas Illmer/Michael Knigge