Thousands of vineyards workers from the area of Hex River and De Doorns in the Western Cape, who were protesting for higher wages, were dispersed by police officers fireing rubber bullets on Monday. 11 arrests were reported.
DW's correspondent in Johannesburg, Subry Govender, says farmworkers set 30 hectars (74 acres) of vineyards ablaze early last week. They raided shops and blocked roads as they demanded their daily wages to be doubled to a minimum wage of 150 rand (13 euors, $17) per day.
Farmworkers currently earn 69 rand a day. But this dispute is not just about wages. Their concerns also include poor working conditions, a lack of electricity, illegal evictions, illegal immigrants, workers and labor brokers.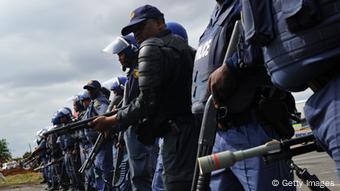 South Africa has faced severe labor unrest recently, mostly in its mining sector
Asked why farmers are refusing to raise wages, Portia Adams, the spokeswoman for employers' body AgriSA insisted the existing payments were in accordance with sectoral agreements and minimum wages in the country.
"We cannot have wage negotiations for the mere fact we are bound by government, and sectoral determination and minimum wages are in place," she said, adding that the problem lay within the farmers. "Farmers in the De Doorns are all paying above minimum wage," she maintained.
'Slave wages'
Negotiations between farmer representatives, the union and the Department of Agriculture, Forestry and Fisheries began on Wednesday last week, but broke down at the weekend. The farmers offered the farmworkers 80 rand a day, which they rejected.
Tony Ehrenreich, provincial secretary of the Congress of South African Trade Unions (COSATU) told DW his trade union federation believes there is no justification for the farmworkers to be treated in such slave/like conditions in the new democratic South Africa.
"These slave wages that are a remnant of apartheid continue to marginalize and impoverish so many rural communities," he said.
Ehrenreich also called on the workers to stay away from work on Monday pointing out that strike was now spreading to other areas.
Do not burn down farms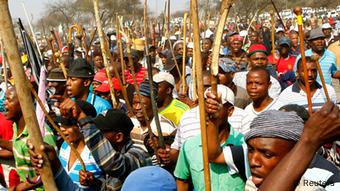 Farmworkers are demanding their daily wages be doubled
Agriculture Minister Tina Joemat-Petterson, oppostition leader Helen Zille and other political leaders have visited De Doorns in effort to try and help resolve the unrest amicably. The minister said the farm workers have genuine claims but appealed to them not to get involved in violent acts.
"We appeal to all workers and employers to remain calm. we appeal to workers not to take the law into their own hands, not to burn down farms to engage in any illegal activity," she said.
Meanwhile the Federation of Unions of South Africa (FEDUSA) has condemned the violent protests in De Doorns and has called on Labor Minister to intervene, believing that the unrest can only be resolved through negotiation.
"Their role in the matter is of great importance in order to resolve the increasingly volatile situation" Gretchen Humphries, FEDUSA Deputy General Secretary, told DW's Africalink show.
Humphries believes that the protests are politically motivated, but believes "a solution can be found in order to limit the impact on the exports, now that the grape season has commenced."
De Doorns produces table grapes, mainly for the export market. It currently provides 8,000 full-time and 8,000 seasonal jobs.