It was the first agreement of its kind. And it was by no means the last. When Germany signed a treaty with Italy to allow Italian workers to stay in Germany, the country needed labor to maintain its "economic miracle" and Italy needed to find jobs for its unemployed. And so -- with a stroke of a pen and without intention -- Germany began its history as a land of immigration.
First came the brochures in Italy promising La Vita Nuova (a new life) complete with money and employment, something lacking in southern Italy. Then came the work contracts and permits in Italian and German, sparking a journey across borders for many young Italian men, who in contrast to the booming economy in northern Italy were finding it difficult to make ends meet in the impoverished South.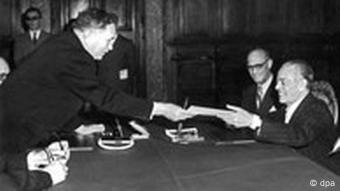 The accord was followed by many others
That journey usually passed through Verona, and later to Naples to the so-called German Commission, where German authorities issued the necessary documents for the would-be workers. The bureacratic measures also included a rigorous medical check-up, a particularly hated aspect, with German employers sizing up the applicants.
"We looked at height, strength and build," recalled Karl Lutterbeck of a farmer's association in Baden-Württemberg. "Sometimes we had them show us their hands, sometimes their teeth to see if everything was okay."
The extensive medical examinations weren't just meant to check the working ability of the Italians but also to prevent contagious illness from being imported into Germany. The commission assessed some 150 Italians per day. To those it accepted, they gave papers, train tickets and some pocket money.
Attracting hundreds of thousands
In the first five years of the program, about 686,000 Italians arrived in Germany. Their employers were expected to provide accommodation for them. And for many, the living quarters were the first shock in a series of many.
"We arrived to barracks with shared bathrooms and kitchens in the middle," recalled Bernardino di Groce who arrived in Germany at 17. "It was for me as an Italian -- I don't want to say that living conditions were so good in Italy -- but wooden barracks were something incomprehensible for us."
Those housing conditions were later to be regulated in another accord between Germany and Italy in 1964.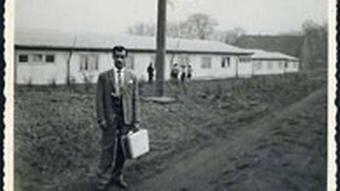 At first vacationing in Italy, many Italians later moved back
Italians went to work in the fields and building sites all over West Germany and particularly in the mines of Germany's Ruhr industrial heartland. They saved and sent the greater part of their earnings home to their families. And later they brought their families to Germany.
It's not known exactly how many Italians came to Germany in the 50 years of the program. Officials estimate between 2 and 3 million. And eventually, many left the factories and farms and mines and began their own businesses -- often restaurants or ice cream shops. And the Italian lifestyle took root in Germany.
Followed by many
The Italian program had many critics in the labor ministry and in the unions. Critics complained that Germany's 1 million unemployed should be given a priority. But it was Ludwig Erhard, economics minister and architect of the "economic miracle" who pushed the program.
It was followed by similar accords with Spain and Greece in 1960, with Turkey in 1961 and later with Morocco, Portugal, Tunisia and the former Yugoslavia. In 1973, foreign workers, also known as "guest workers" numbered about 2.6 million.
And in that same year, it was over. The government -- amid the oil crisis and troubled economy -- stopped the program. For Italians, it didn't matter.
Since the 1960s, Italians could work in Germany because of their membership in the European Economic Community. Still, a majority of Italians -- about 90 percent -- returned to Italy. It was the same with the Spanish and Portuguese workers.
Today, about 7 million foreigners live in Germany, the majority from Turkey.