At least 10 people have died and 80 were wounded Saturday in the southern Afghan city of Kandahar amid renewed protests against a Koran burning in the United States.
The unrest follows Friday's attack on a UN compound in the northern city of Mazar-i-Sharif, in which seven UN staff were killed by a mob.
Some protesters carried white Taliban flags and shouted slogans including "long live the Taliban" and "death to America" during riots that lasted hours.
United Nations Secretary-General Ban Ki-Moon has condemned Friday's violence as "outrageous and cowardly," saying it was the worst attack on the world body since the US-led invasion in 2001.
The attack came during protests against the burning of a Koran supervised by a US pastor at the Dove World Outreach Center in Florida last month. The attackers overwhelmed security guards and burned parts of the compound in an hours-long battle.
Gurkhas fought mob
According to UN officials, four Nepalese Gurkha guards died fighting against the armed mob.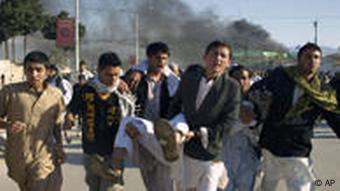 Several protesters were wounded in the attack
The Swedish government said a 33-year-old national, Joakim Dungel, was also among the dead. Norway said Lieutenant Colonel Siri Skare, a 53-year-old pilot, was killed, while diplomats said the third victim was Romanian.
The Taliban have insisted they had no role in the killings.
"The Taliban had nothing to do with this, it was a pure act of responsible Muslims," spokesman Zabihullah Mujahid told Reuters by phone from an undisclosed location.
"The foreigners brought the wrath of the Afghans on themselves by burning the Koran."
Other news agencies also reported the Taliban as saying they were not responsible.
Anger at Koran burning
The Koran burning in the US has compounded the longstanding anger many Afghans feel at civilian casualties during fighting between NATO-led forces and Taliban insurgents. There were also peaceful demonstrations against the burning in the western city of Heart and in the capital, Kabul.
The pastor, Terry Jones, who supervised the burning of the book at a church in Florida on March 20, told British broadcaster BBC that he feels no guilt about the deaths in Mazar-i-Sharif.
A UN spokesman said security would be revised after the attack, but that the United Nations would remain in Afghanistan.
Author: Timothy Jones, Spencer Kimball (AFP, Reuters, dpa)
Editor: Martin Kuebler